Denver Commercial Real Estate Market Industrial Trends Q3 2021 October 16, 2021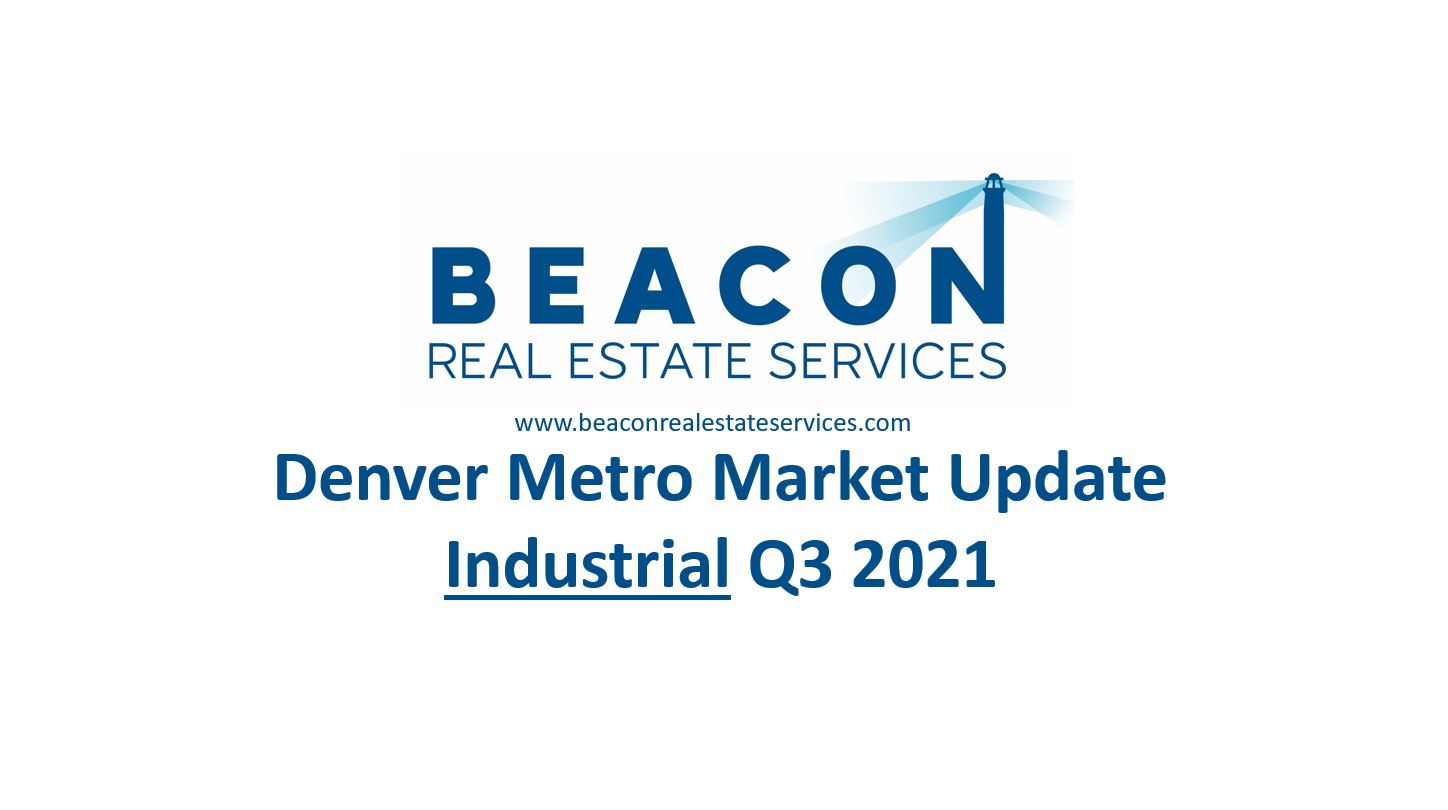 Industrial commercial real estate in Denver is showing some interesting signs worth paying attention to. Industrial is the second most active property type for commercial real estate as distribution has become top of mind for a lot of companies. Let's dive into supply, demand, new construction, vacancy rates, and leasing.
Supply
There are 204 active for sale listings for industrial properties. These properties range from a $170k industrial condo with 1,050 sf in Parker to a massive 630,812 sf distribution center for $69,000,000. There is 7M sf for sale with a total listing value of $526M.
Demand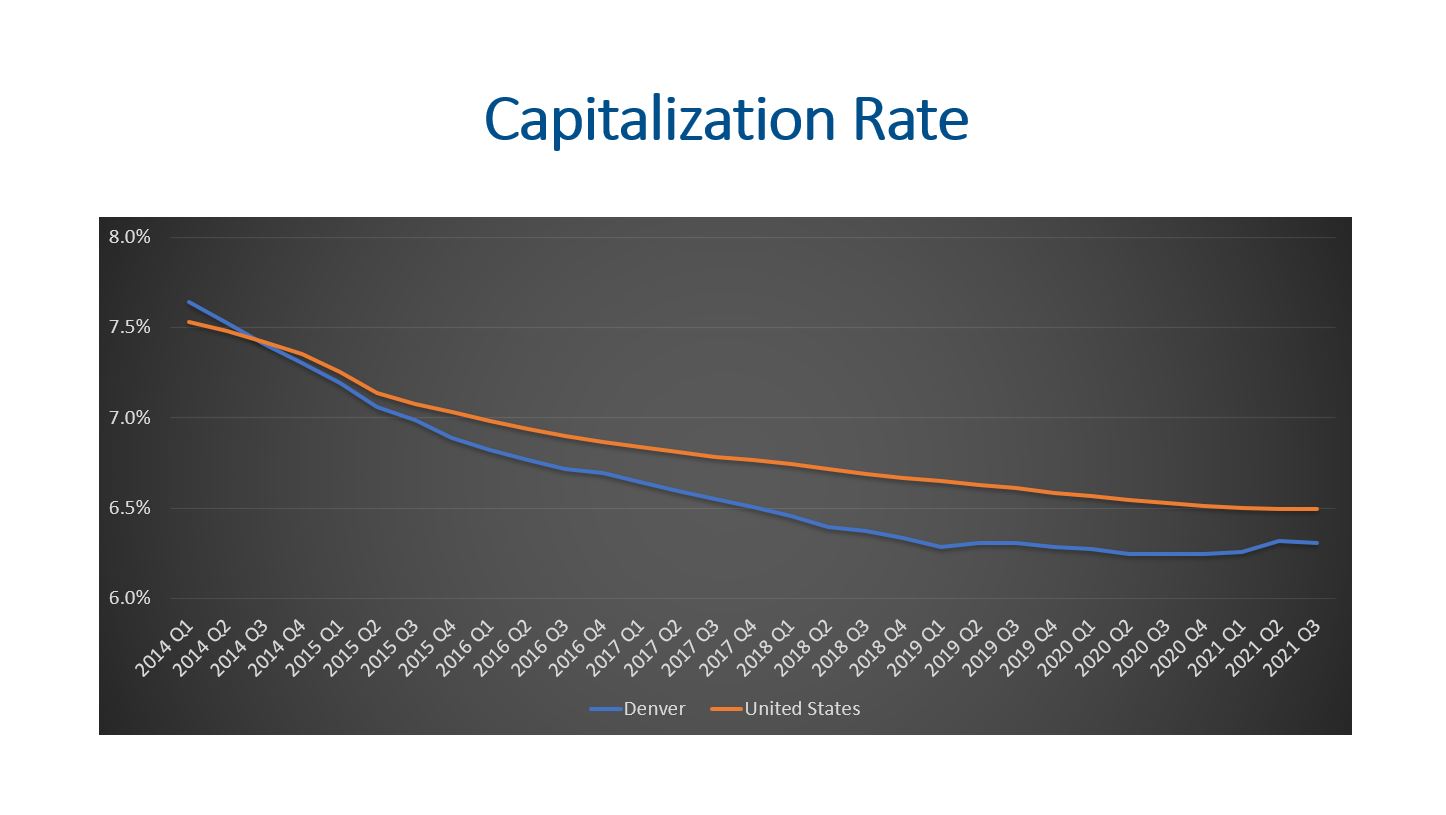 There were 191 closed sales in Q3 2021. This averages out to a market absorption rate of 64 sales per month. The dollar volume for closed listings in Q3 was $483M for the Denver Metro market and the YTD sales are nearly $1.2B. This represents a 7.9% increase over the same period in 2020.
When we compare this supply against the absorption rate, the inventory is at 3.2 months. Capitalization rates are hovering around 6.3%. The cap rates have been steadily declining over the last eight years.
New Construction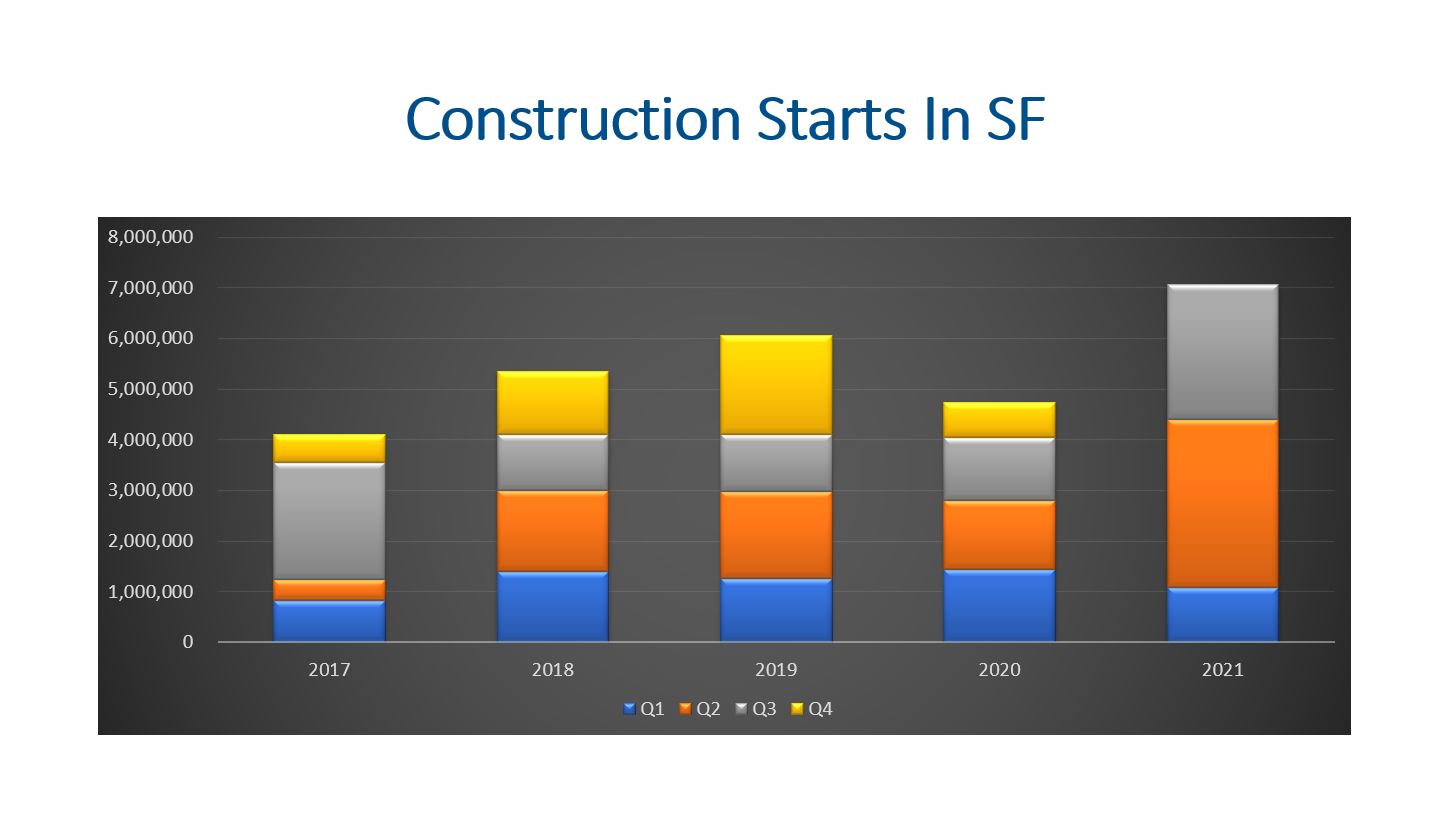 Developers started construction on nearly 2.7M sf in Q3. This is a big number following the 3.3M sf that was started in Q2. YTD developers started construction on 7M sf compared to 4M sf during the same time last year.
The net deliveries placed into the space market during Q3 was nearly 1.0M sf.
All together there is nearly 7.9M sf under construction right now. Given the space market for industrial is 259M sf, we are set to grow by 3% in total space.
Vacancy Rates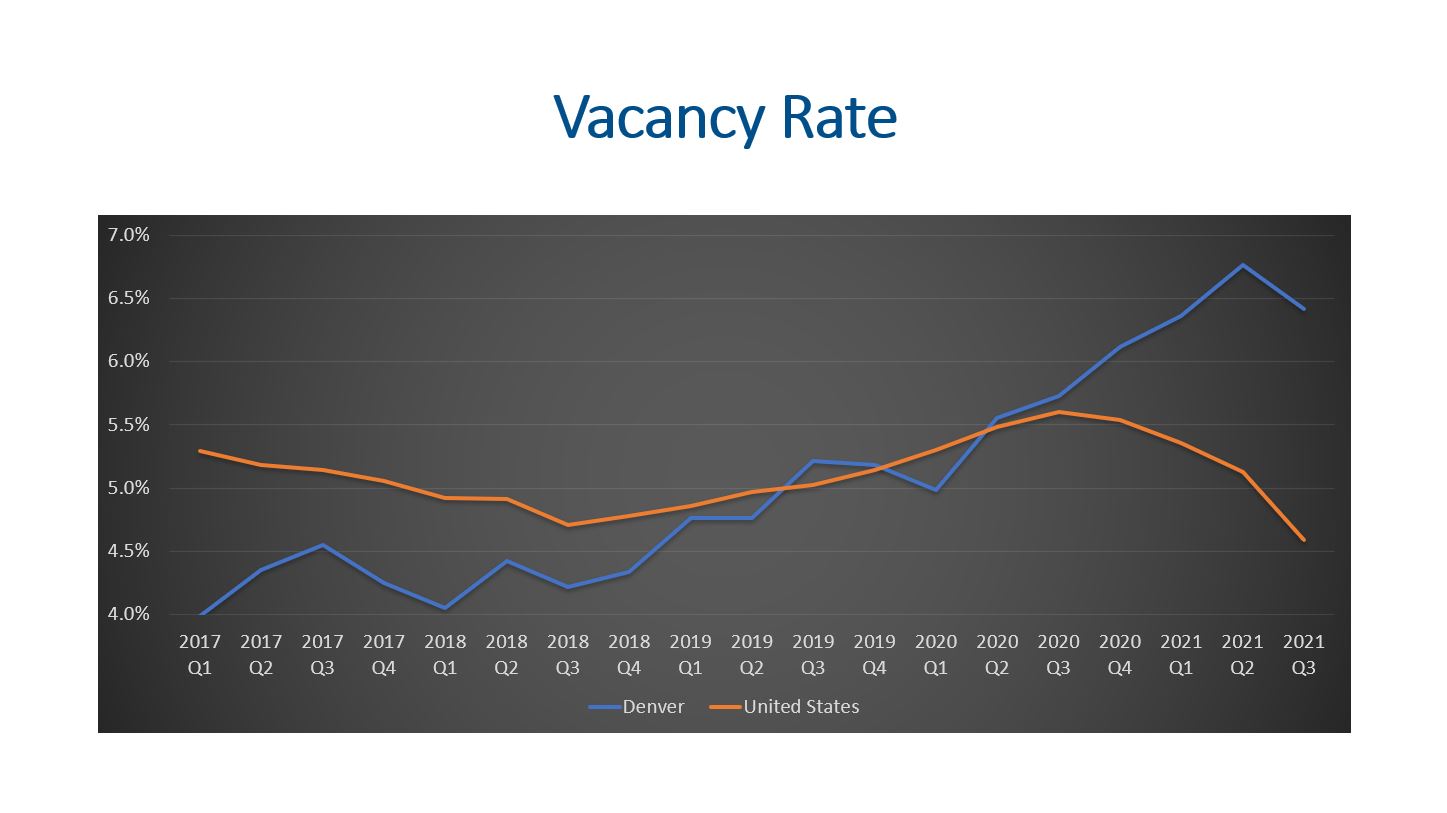 Vacancy rates have been steadily rising in Denver over the last four years. Although the national trend also increased from 2018 to 2020, we had a significant divergence in Q3 2020 as distribution space nationally was absorbed much faster than Denver.
This suggests that Denver is growing faster than the national rate.
Leasing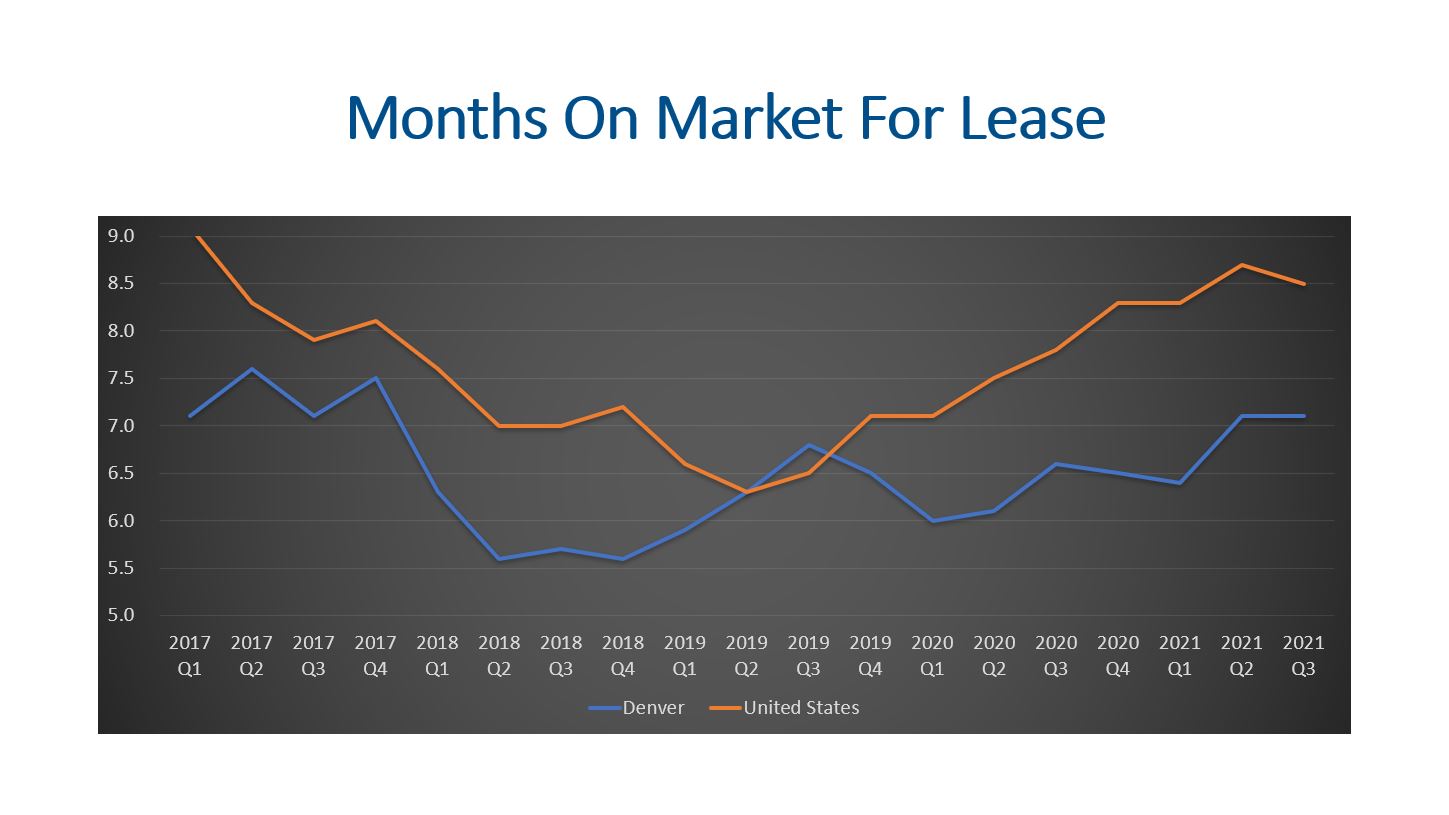 The average NNN lease is now $10.40 per SF per year for industrial space. This represents a 3.3% increase YOY. It is interesting to see some rent growth while vacancies are also. Furthermore, the months on market held steady at 7.1 months. This is about one month longer than Q3 2020.
Q3 2021 net absorption was a very large number at 1.8M sf! With that said, most of this came from Amazon leasing 1.2M sf at the new industrial complex near Colfax and Tower in Aurora.
Final Thoughts
Supply and demand for industrial properties seem to be fairly balanced. Although construction starts are up, moderately higher when compared to the same time last year. The growth rate of 3% seems reasonable given the new focus many investors have on industrial properties. It was good to see that vacancies held steady compared to Q2. Rental rates have increased over the last year, but our marketing time increased by nearly a month. It will be interesting to continue monitoring the industrial market!
Here is a link to the full presentation: