Denver Commercial Real Estate Market Industrial Trends Q4 2021 February 2, 2022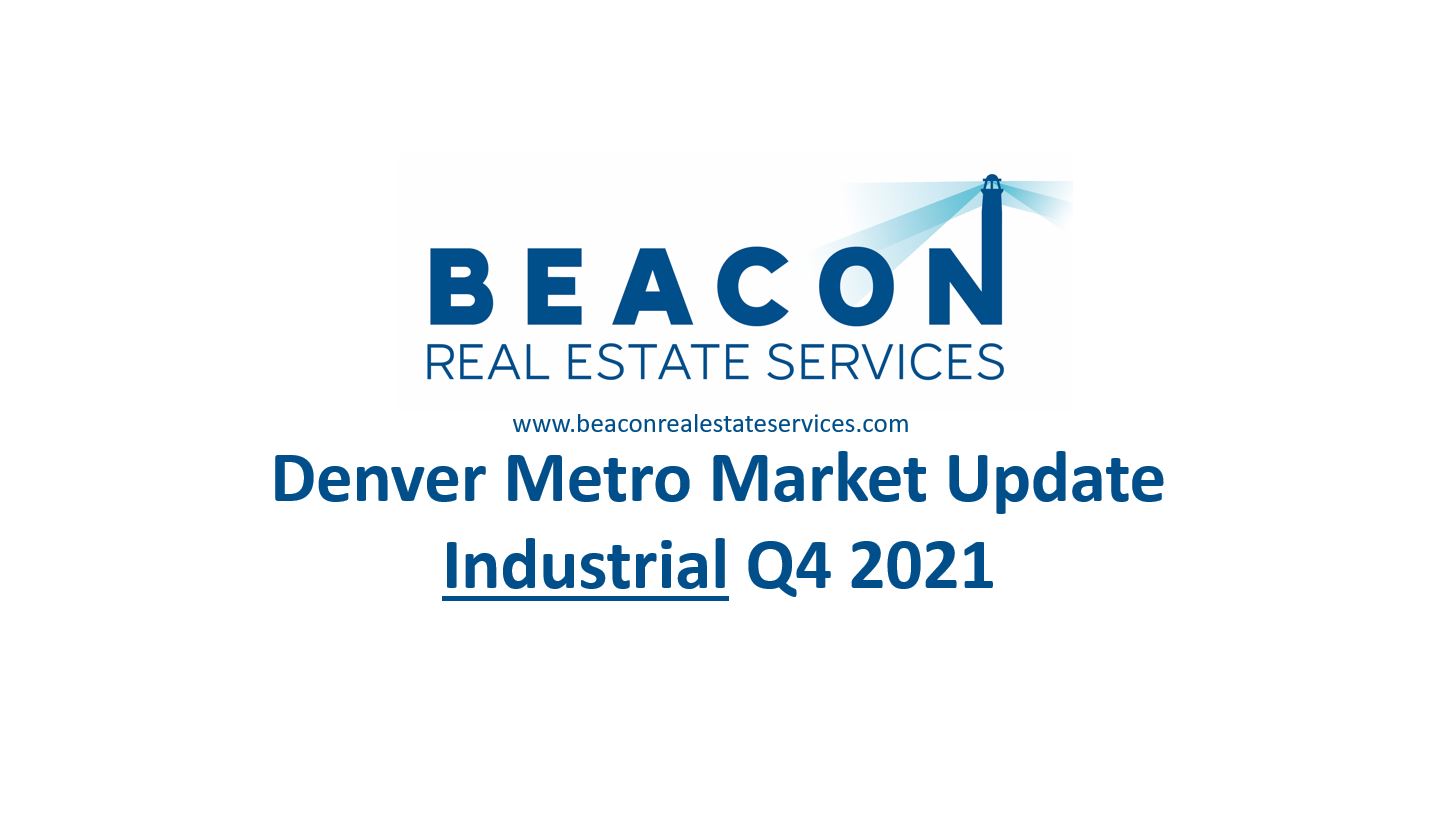 The Industrial property type for commercial real estate in Denver had a big end to the year. New records were set for the sales volume and net absorption. Some say demand for Industrial is peaking. Yet Prologis, the largest developer of industrial has a $26B backlog of construction with most of it being build-to-suite. Build-to-suite is when a company needs space and cannot find what they need in the market, so they go do a developer to get what they need. Let's dive into supply, demand, new construction, vacancy rates, and leasing.
Supply
There are 166 active for sale listings for industrial properties. These properties range from a $263,250 industrial condo to a massive 630,812 sf distribution center for $69,150,000. There is 7.173M sf for sale with a total listing value of $620M.
Demand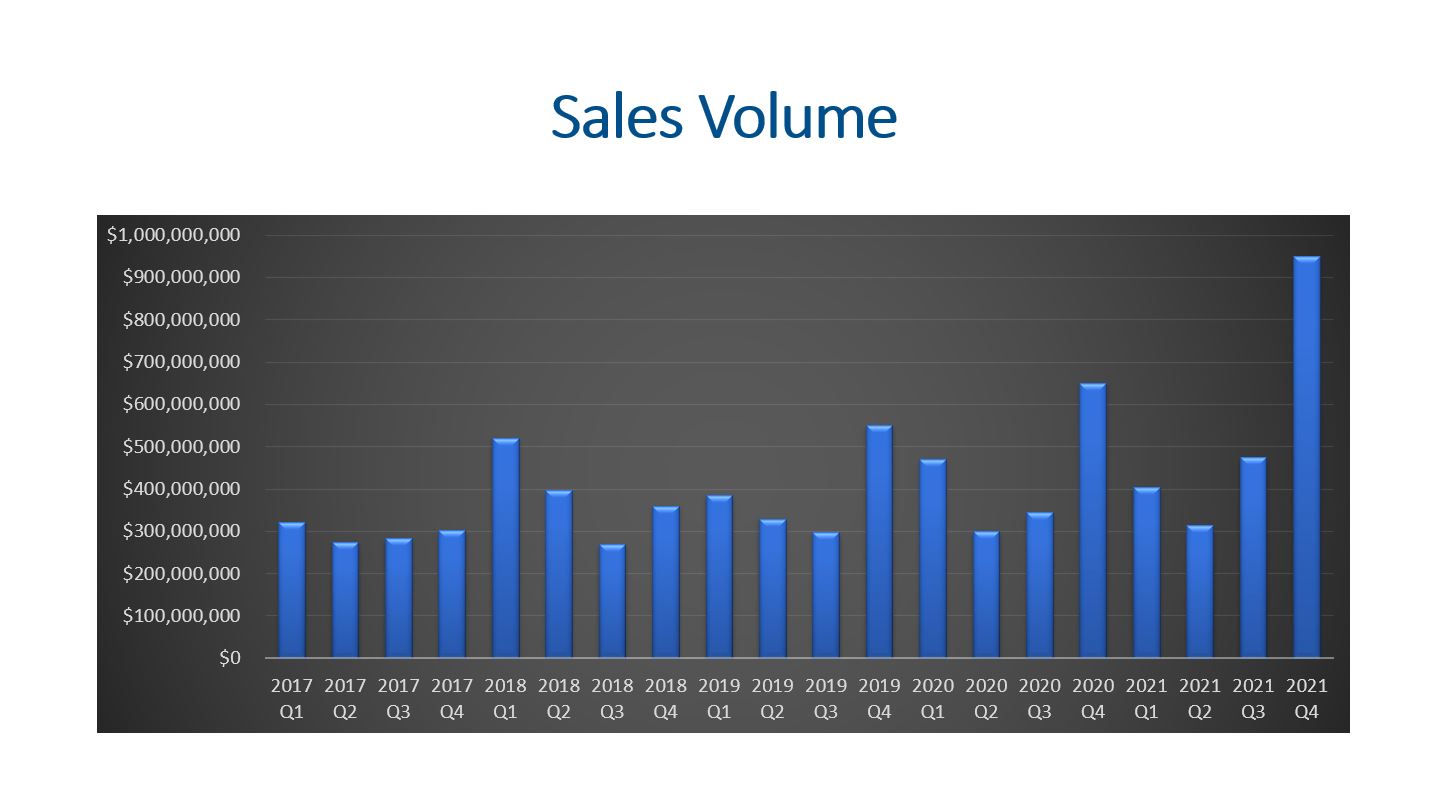 There were 137 closed sales in Q4 2021. This averages out to a market absorption rate of 45.6 sales per month. The dollar volume for closed listings in Q4 was $948M for the Denver Metro market. The full year dollar volume was $2.1B. This represents a 21.3% increase over 2020.
When we compare the supply against the absorption rate, the inventory is at 3.6 months.
Capitalization rates are hovering around 6.1%. The cap rates have been steadily declining over the last eight years.
New Construction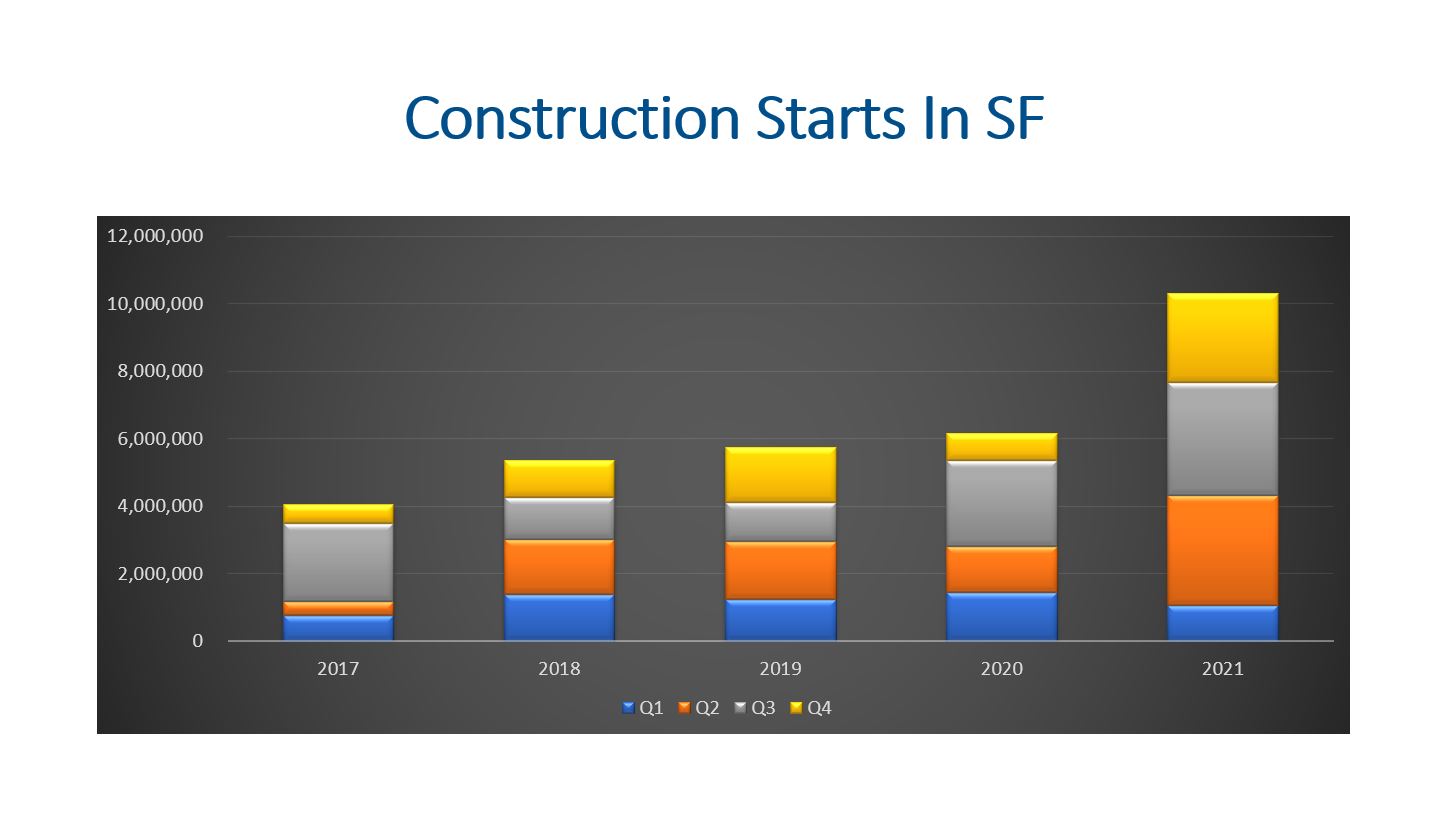 Developers started construction on nearly 2.6M sf in Q4. This is a big number following the 3.3M sf in Q3 and 3.3M sf in Q2. In 2021 developers started construction on 10.3M sf of industrial compared 6.2M sf in 2020.
The net deliveries for Q4 were 814,890 sf and 5.1M sf for 2021.
All together there is nearly 11.4M sf of industrial under construction right now at the end of Q4.
Given the space market for industrial is 260.5M sf and the net deliveries of 5.1M sf, the Denver Industrial market grew by 2%.
Vacancy Rates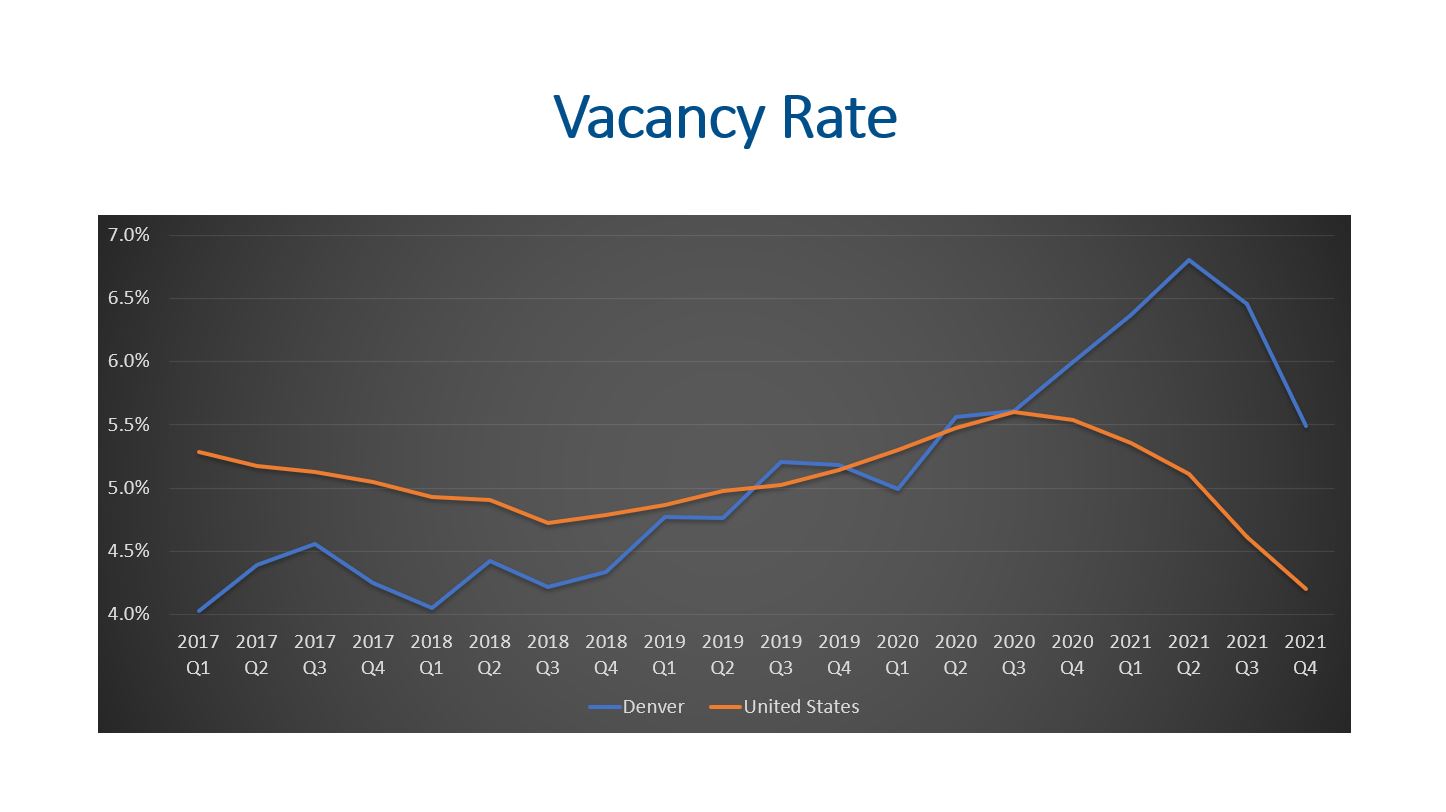 Vacancy rates have been on the rise since 2017 and peaked in Q2 2021 at 6.8%. Since then vacancy rates have fallen 130 basis points to 5.5% in Denver.
We had a significant divergence in Q3 2020 as distribution space nationally was absorbed much faster than Denver.
This suggests that Denver isn't absorbing space quite as fast as the rest of the nation.
Leasing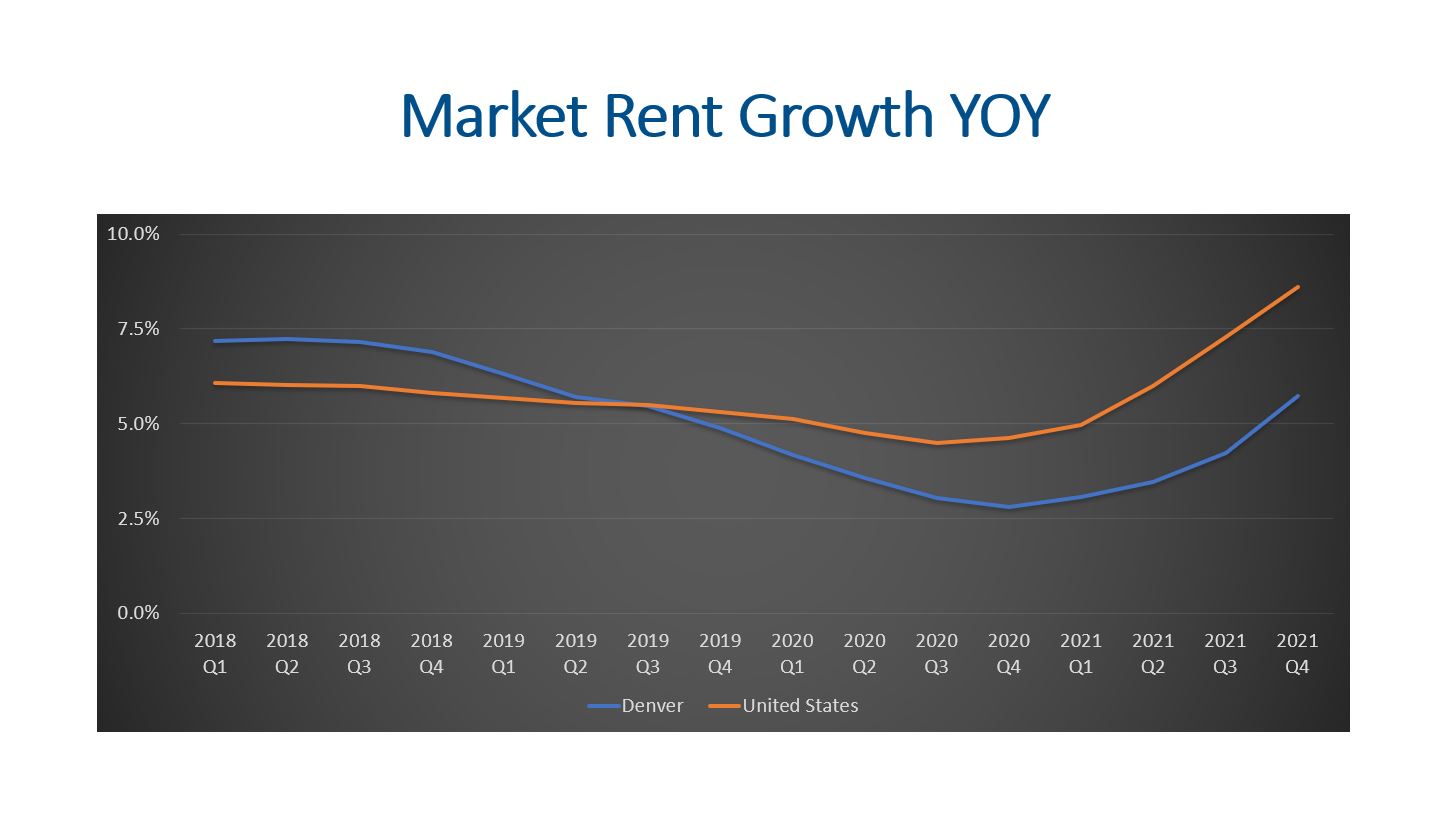 The average NNN lease is now $10.73 per SF per year for industrial space. This represents a 5.74% increase YOY. With the Consumer Price Index (CPI) for the Denver Metropolitan Statistical Area (MSA) increasing by 6.5% industrial actually lost a little ground.
The months on market held steady at 7.2 months. This is about three weeks longer on market compared to Q4 2020.
The Q4 2021 net absorption was a very large number at 3.8M sf! All together 6.7M sf of space was leased during 2021. This is up 1.85% compared to 2020.
There were eight industrial leases signed in Q4 with more than 80,000 sf. This made up 23.9% of the total space leased in Q4.
Final Thoughts
Supply and demand for industrial properties in Denver seem to be fairly balanced. Although construction starts are up significantly so are the absorption rates. The space market growth rate of 2% seems reasonable given the new focus many users and investors have on industrial properties. It was good to see that vacancies have come back down. Rental rates have increased over the last year. It will be interesting to continue monitoring the industrial market in Denver!
Here is a link to the full presentation: