Denver Commercial Real Estate Market Update For Multi-Family Q3 2020 October 9, 2020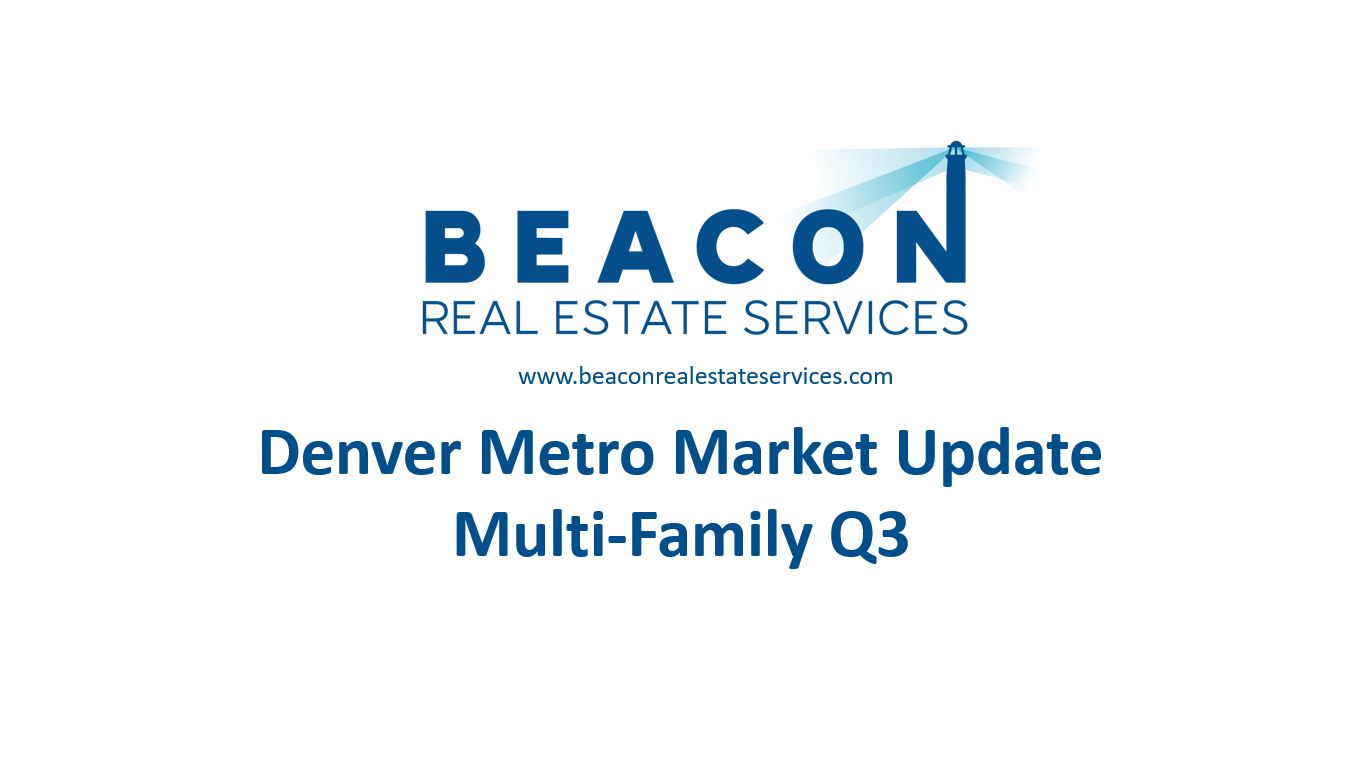 This has been an interesting year for multi-family! Q1 2020 was stronger than the previous three years. Q2 saw a drop… we simply didn't know what we didn't know. Now Q3 is done, and we saw a decent rebound with $923,749,900 in transaction volume. Although this sounds like a lot, we are actually down (45%) from Q3 2019.
Supply
There are currently 122 multi-family listings for sale in the Denver Metro Area. When comparing this supply to demand we have 3.7 months of supply. This the lowest of any commercial property type, and this is about 1/3rd of the amount of office buildings for sale.
Demand
Demand for buying multi-family properties is strong. Yes, there was a new low in Q2, but Q3 is showed resilience for this property type. There were 99 closed sales in Q3, so the average absorption rate was 33 sales a month.
New Construction
Developers started construction on 2,020 new units in Q3. A good portion of these were near downtown. Altogether developers currently have 13,975 units under construction. This is down from the 17,117 units we had under construction in Q3 of 2017. The Denver Metro area has 255,653 units so the market is set to expand by 5.5% at this rate. This rate is higher than the other three major property types combined.
Vacancy Rates
Vacancy rates were fairly flat between Q4 2019 and Q2 2020. In the past quarter the vacancy rates actually came down (6%) from Q2 to 7.6%. Downtown properties are not fairing as well as suburban properties, and 4-5 star properties are not fairing as well as 3 star properties. For example, the 4-5 star properties currently have a 9.7% vacancy rate and 3 star properties have a 5.8% vacancy rate. A lot of tenants are deciding they don't need to be downtown in a smaller unit, and they are looking for larger units that are less expensive in the suburbs.
Leasing
The average Gross lease apartment rent varies by bedrooms. Studio units are renting for $1,226 per month, and one-bedroom units are leasing for $1,336 per month. Two-bedroom units are renting for $1,658 per month, and 3-bedroom units are leasing for $2,156. When comparing these rates to Q2 studio and one-bedroom units went down by $10, two-bedroom units were up $1, and three-bedroom units were up $10.
Q3 set a new record for absorption with 3,055 units being leased. This is an increase of 66.7% compared to Q2, and an increase of 31.1% compared to Q2 2019.
Final Thoughts
Supply and demand for buying and selling multi-family properties is in a great position with only 3.7 months of inventory. Developers are building a lot of new units, but they building fewer units than they were just a few years ago. The Q3 leasing demand was very strong. One headwind for multi-family are the low interest rates that seem to be attracting first time home buyers to buy homes instead of signing a new lease.
Video
Here is a 2-minute video on the state of the Denver Multi-Family Market.