Denver Metro Commercial Office Market Update Q2 2021 July 19, 2021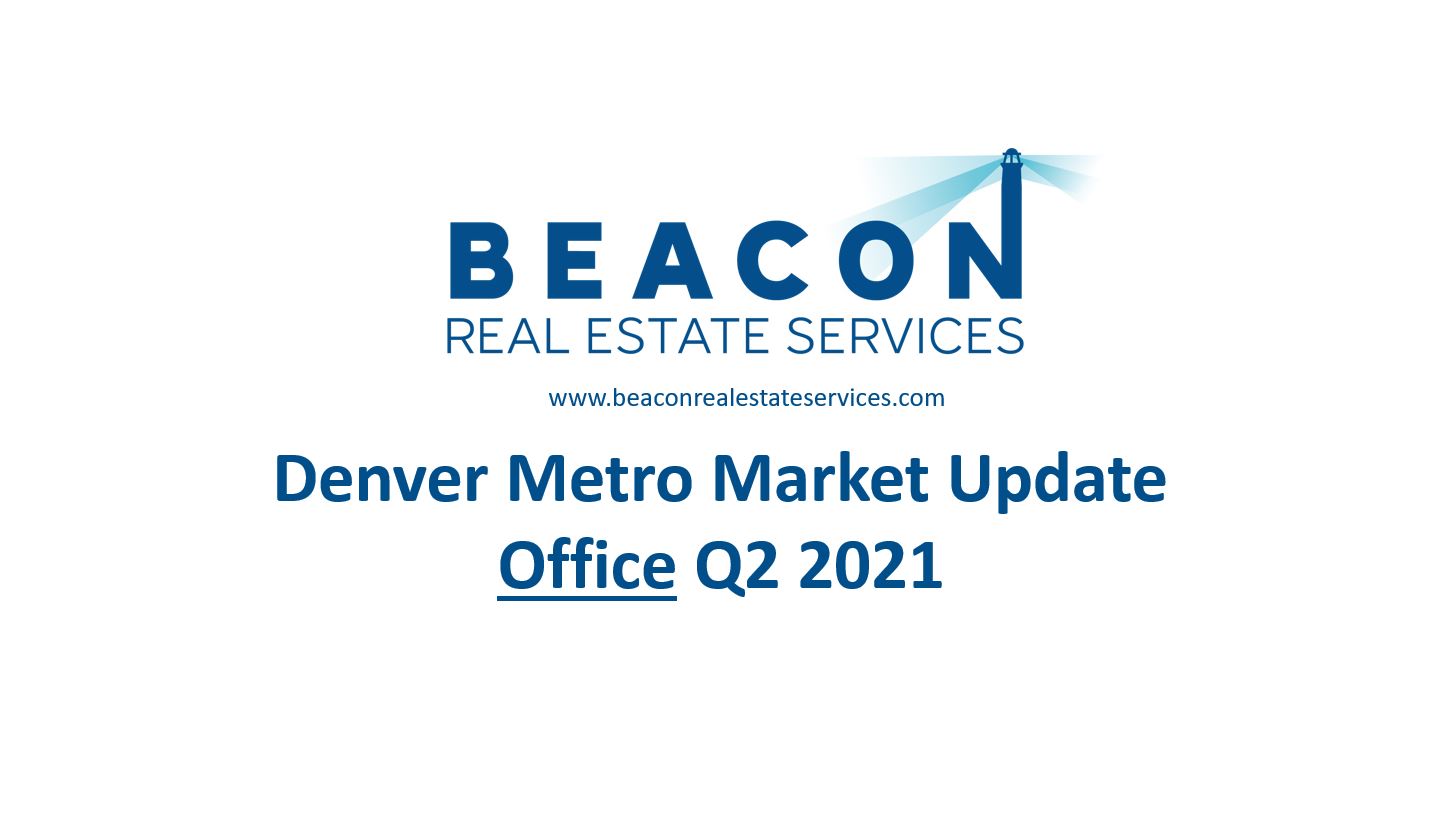 The office product type has been significantly impacted by the response to covid in Denver and throughout the country. Unfortunately, Denver hasn't fared as well as other markets. We have seen six consecutive quarters of negative net absorption from a leasing standpoint. One bright spot is that we lost a lot less occupancy than Q1, so this may be starting a trend towards stabilization. Let's take a look at supply, demand, new construction, and leasing.
Supply
There are 333 office buildings and condos for sale in the Denver Metro Area. When comparing this supply to absorption rate we have 5.8 months of inventory. This is down from 7.34 months in Q1 2021 and 9.5 months in Q4 2020. Hopefully, this trend continues.
Demand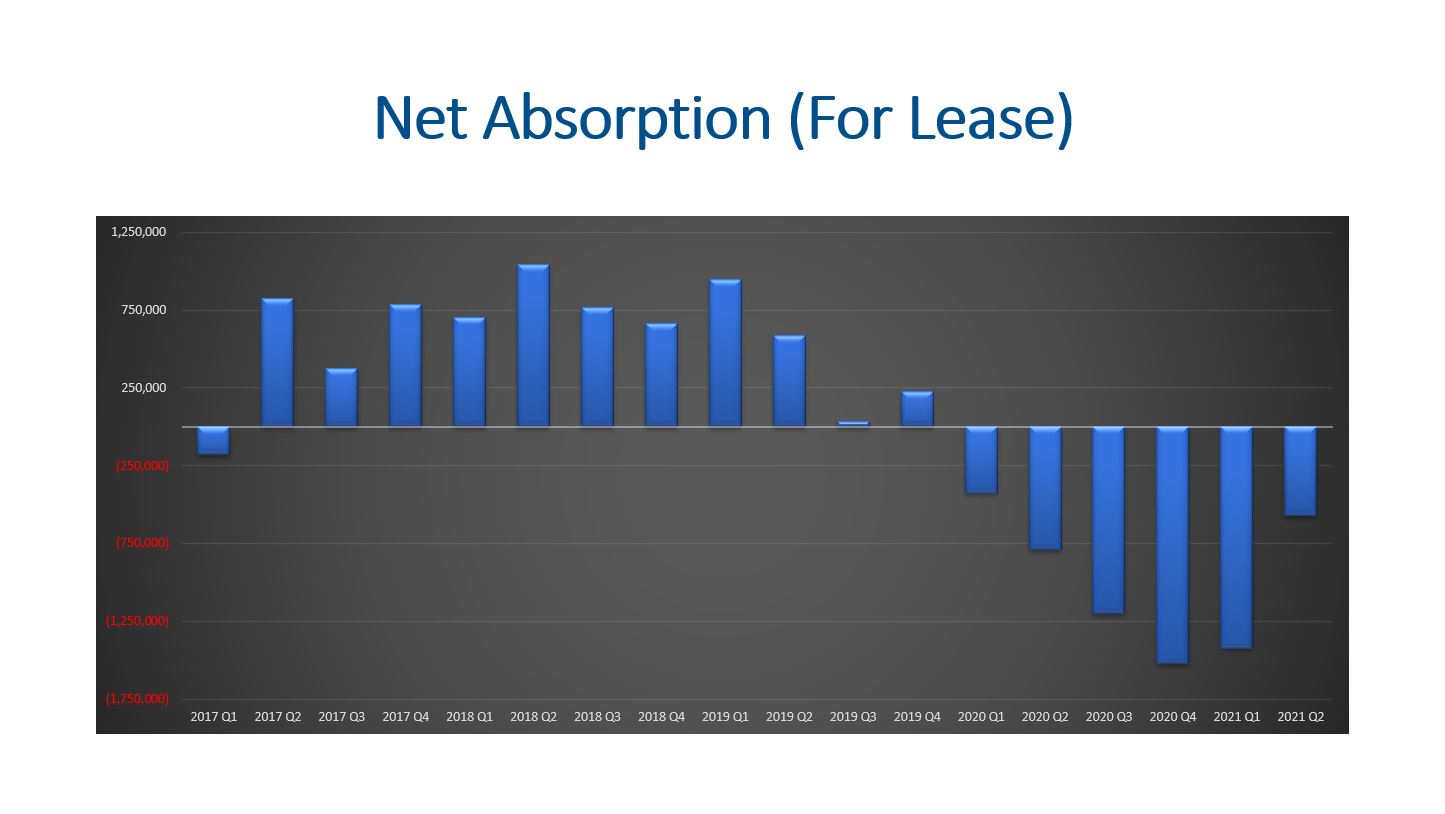 The sales volume (in dollars) for office properties in Q2 2121 was up 380% compared to Q2 of 2020 but that number isn't a good comparison as the lockdowns took a toll on transactions. When we compare YTD 2021 to Q1 and Q2 of 2020, we are only down by (3.2%).
There were 172 office sales during Q2 which indicates an absorption rate of 57.3 sales per month.
The negative net absorption for the past six quarters has cost us nearly 6M sf of occupancy and is hopefully tapering off now. There are a variety of forecasts on this particular issue. Some forecasts predict we are close to breaking even on net absorption for the remainder of the year and other forecasts have us negative for the remainder of the year before we turn positive in 2022.
Cap rates have been flat, but we expect to see an increase.
Many government mandates have expired or are set to expire. There have been several announcements to bring employees back to the office in Q3. A lot of companies have developed remote work and hybrid policies. Therefore, we believe the recovery for office will be slow.
New Construction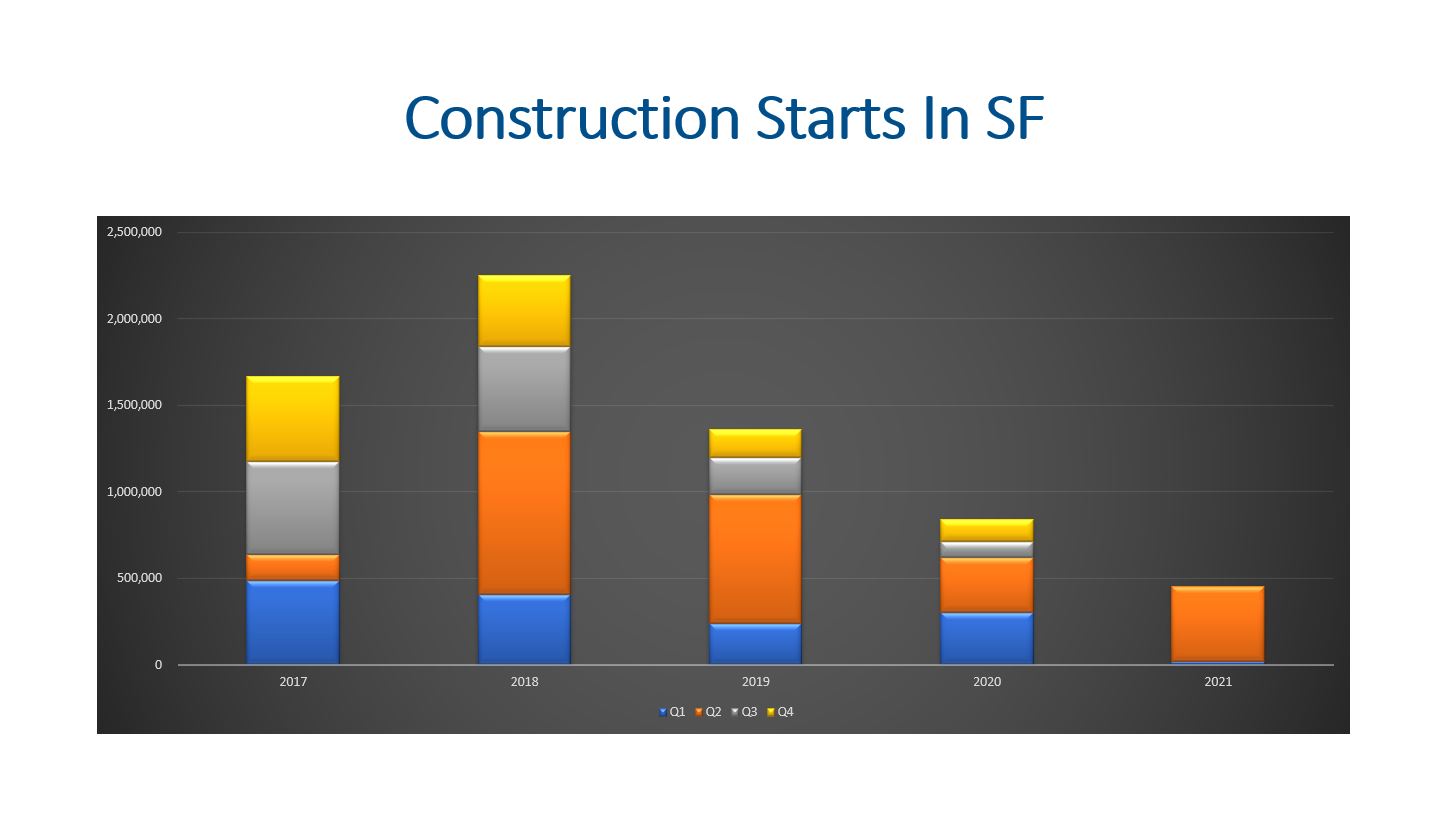 Developers started construction on 437,110 sf in Q2, which is dramatically up from the 15,170 sf in Q1 2021. This is the largest amount of office construction starts since Q2 of 2019 and signals those developers may believe the worst is behind us.
Altogether, developers have nearly 1.6M sf under construction. We haven't had this low amount of sf under construction since 2013, but it does make sense given the current climate.
The office market size is around 180M sf in Denver, so the space market is set to expand 8/10ths of 1%.
Leasing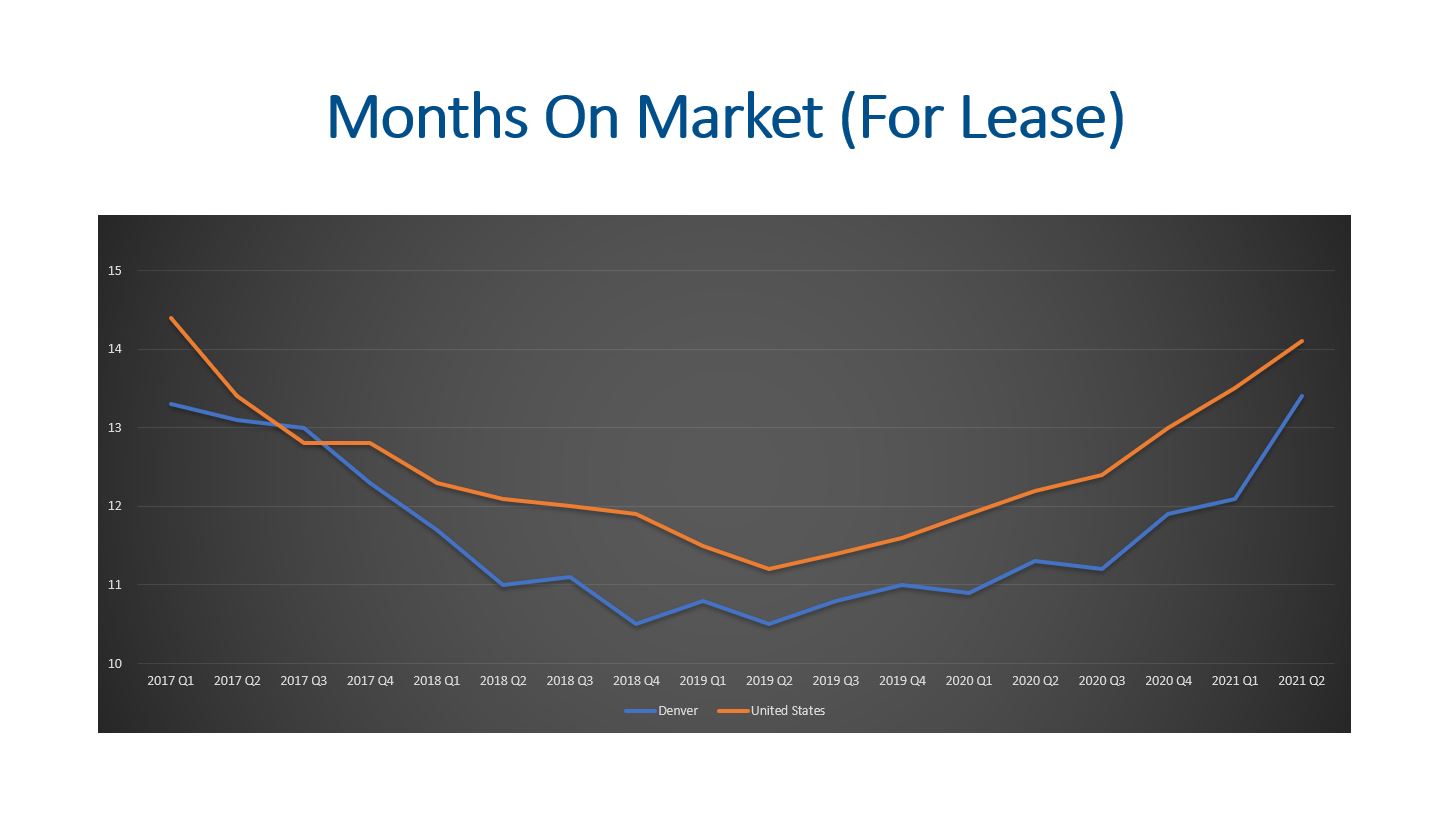 The average Gross Lease is $28.58 and this is down about (1.9%) from a year ago. Denver is ($5.60) less per sf compared to the national average which is about (16%). Therefore, there is a possibility that more companies will open offices or relocate to Denver.
Given the rise in vacancy and availability, we are expecting downward pressure on rents.
On average it is taking 12.9 months to find a new office tenant. This is up 2.1 months from a year ago. We believe this trend will continue for the remainder of the year.
Final Thoughts
All in all, supply, demand, new construction, and leasing are all showing us signs that deserve our attention. There has been an improvement in the absorption rate but the dollar volume is slightly lower compared to the same time last year. The negative net absorption continued in Q2 but is hopefully tapering off. Some developers moved forward with starting their projects while the overall sf under construction dipped. The leasing rate per sf modestly declined while the time it is taking to find a new tenant has gone up. We will continue to monitor the office market.
Here is a link to the full presentation: