March 2022 Residential Real Estate Market Trends April 23, 2022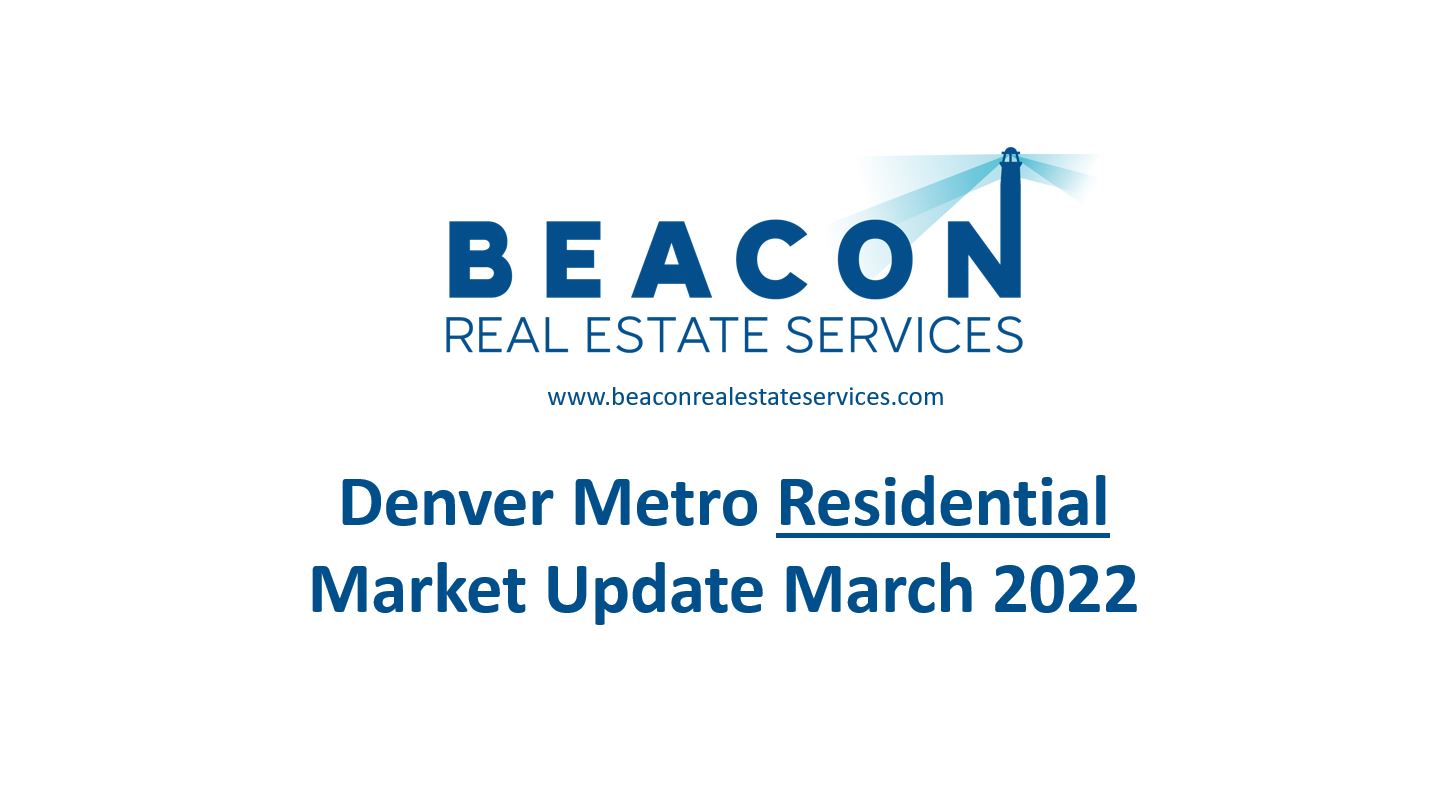 The residential real estate market in Denver saw even lower inventory levels than last year. Mortgage interest rates increased from 3.1% to 5.0% from January 1st to March 31st. Even with rising interest rates prices have continued to climb.
Let's take a look at the latest market trends for the residential real estate market in Denver as by examining: Supply, Demand, Sales Prices, and Months of Inventory for March 2022.
Supply
We saw 6,200 new listings during March 2022. This is was 5.3% more new listings compared to March 2021. When we look at total listings at the end of the month we only had 3,002 active listings. This represents a decrease of (12.9%) compared to March of 2021. Buyers shopping for a home in this market have fewer options to choose from.
Detached single family construction starts are up 24.8% for January and February when we compare 2022 to 2021. (The data lags by 1 month.)
All in all, supply for residential homes for sale is reaching even lower levels.
Demand
The volume of showings is a great leading indicator of real estate market demand.
Total showings for March 2022 came in very close to March 2021. The number of showings per active listing tapered off to 21.84 showings. This is much higher than the 11.32 showings per active listing that we saw in March of 2019.
We saw 4,929 properties go under contract in March 2022. This does represent a (8.2%) decline YOY.
There were 4,539 closings in March 2022 compared to 5,088 closings in March of 2021. This represents a decline of (10.8%)
We believe the declines in contracts and closings are from the low inventory and the higher interest rates.
The median days on market remained at 4 days. This means half of the homes that are listed sell within 4 days!
All in all, showings, contracts, closings, and the median days on market all indicate we are firmly in a seller's market.
Sales Price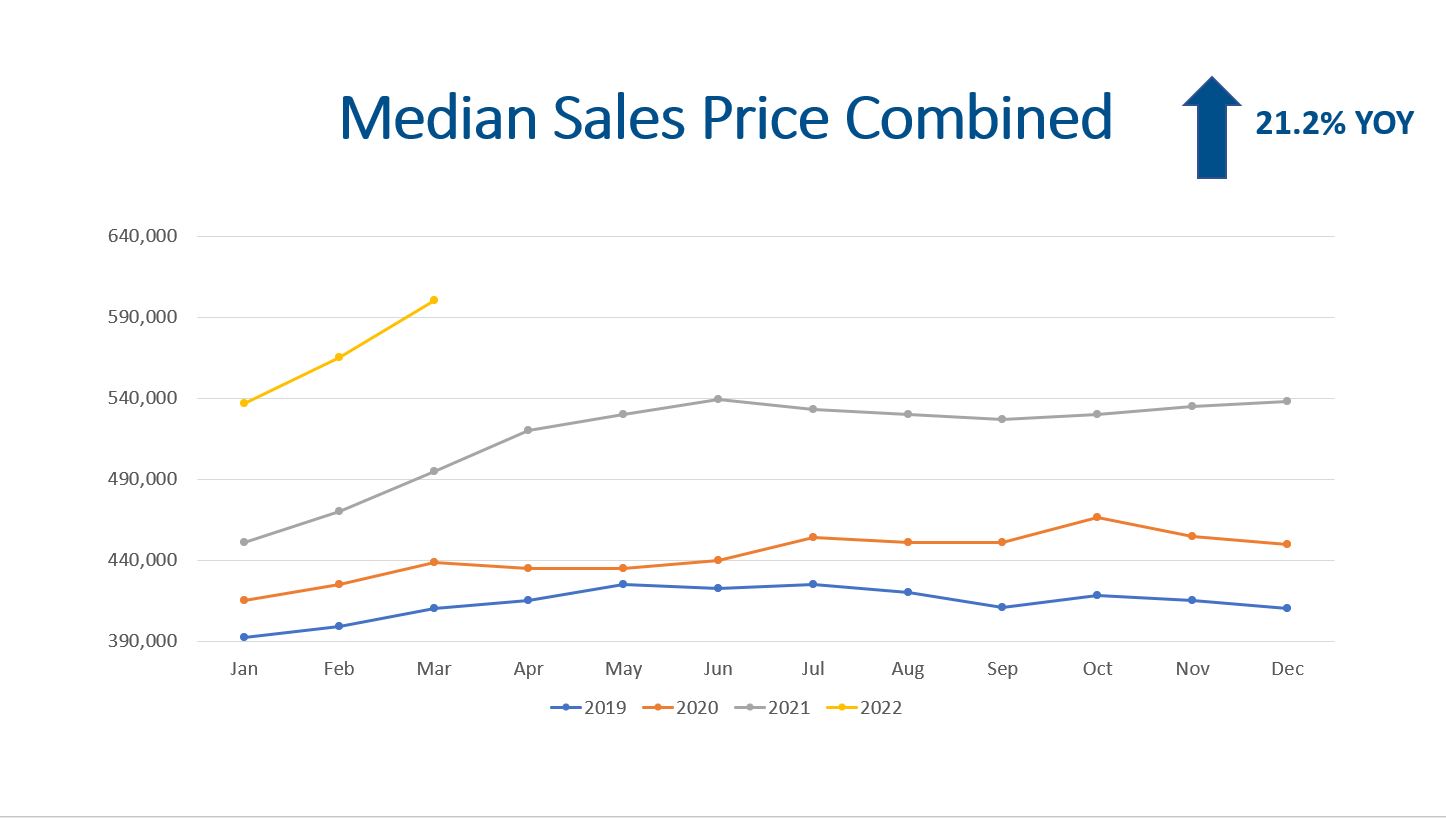 The median sales price for the entire market during March hit $600,000. This is up from 495,000 in March of 2021 and represents a 21.2% increase. This includes detached homes, condos, and town homes.
If we look just at detached homes, the median sales price was $660,000. This represents a 17.9% YOY increase!
Price appreciation has been great for those who already own a home but makes it harder and harder for first time homebuyers to get in.
Months of Inventory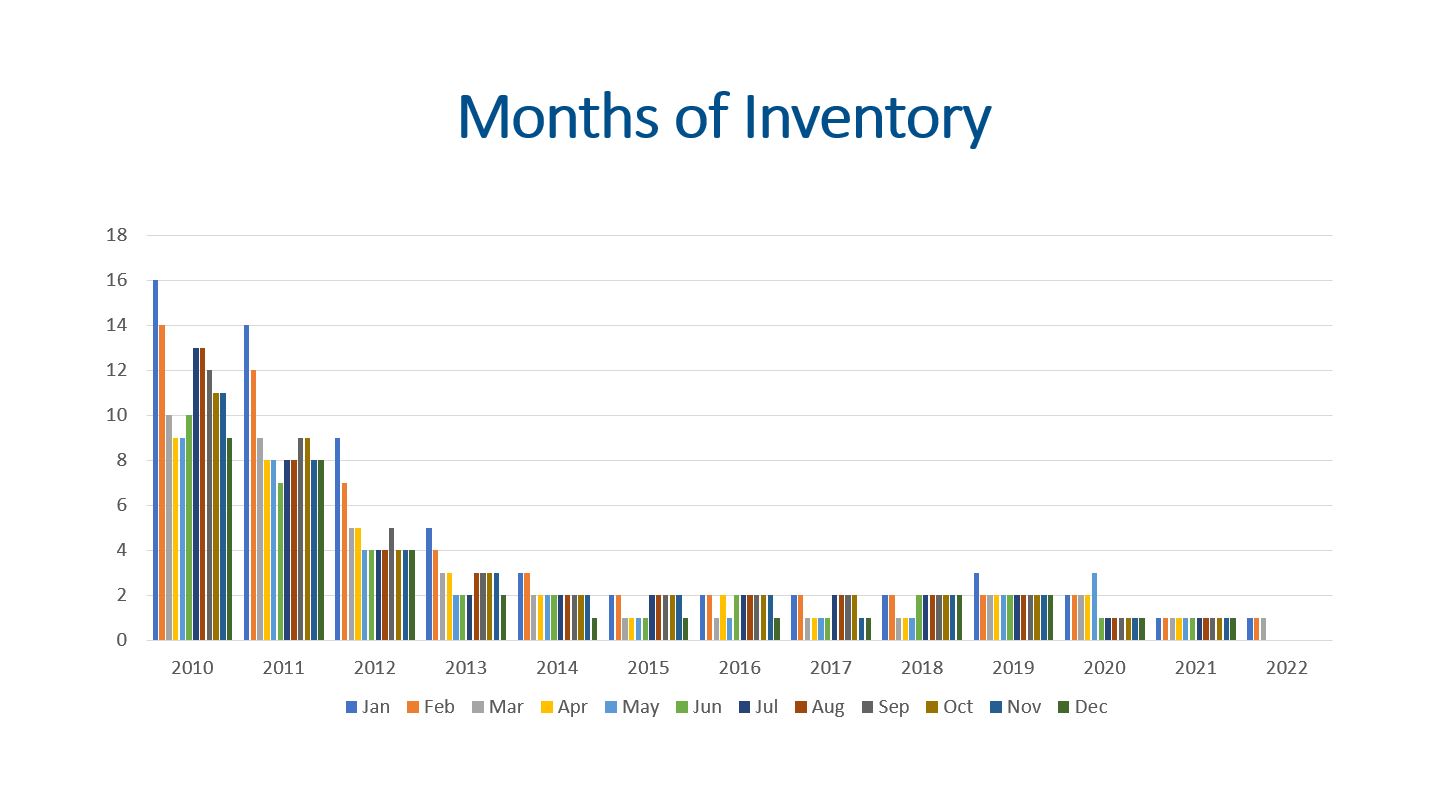 The months of inventory is still the best indicator to watch for market trends. A seller's market has 0-3 months of inventory. A balanced market has 4-6 months of inventory, and 7+ months of inventory is a buyer's market. In a seller's market prices go up, and in a buyer's market prices go down.
With 3,002 listings on the market and 4,539 closings, we have 2.8 weeks of inventory. Therefore, we are still in a seller's market!
Final Thoughts
In summary, supply, demand, sales prices, and months of inventory are all worth tracking. Supply is still a problem for Denver Residential Real Estate. Hopefully more and more homes come on the market this Spring. Demand is strong when we look at showings, contracts, and closings. We are closely monitoring interest rates since they have jumped nearly 2% this year. Lastly, with 2.8 weeks of inventory, home appreciation is likely to continue in 2022.
Here is a link to the full presentation: