September 2022 Residential Real Estate Market Trends October 22, 2022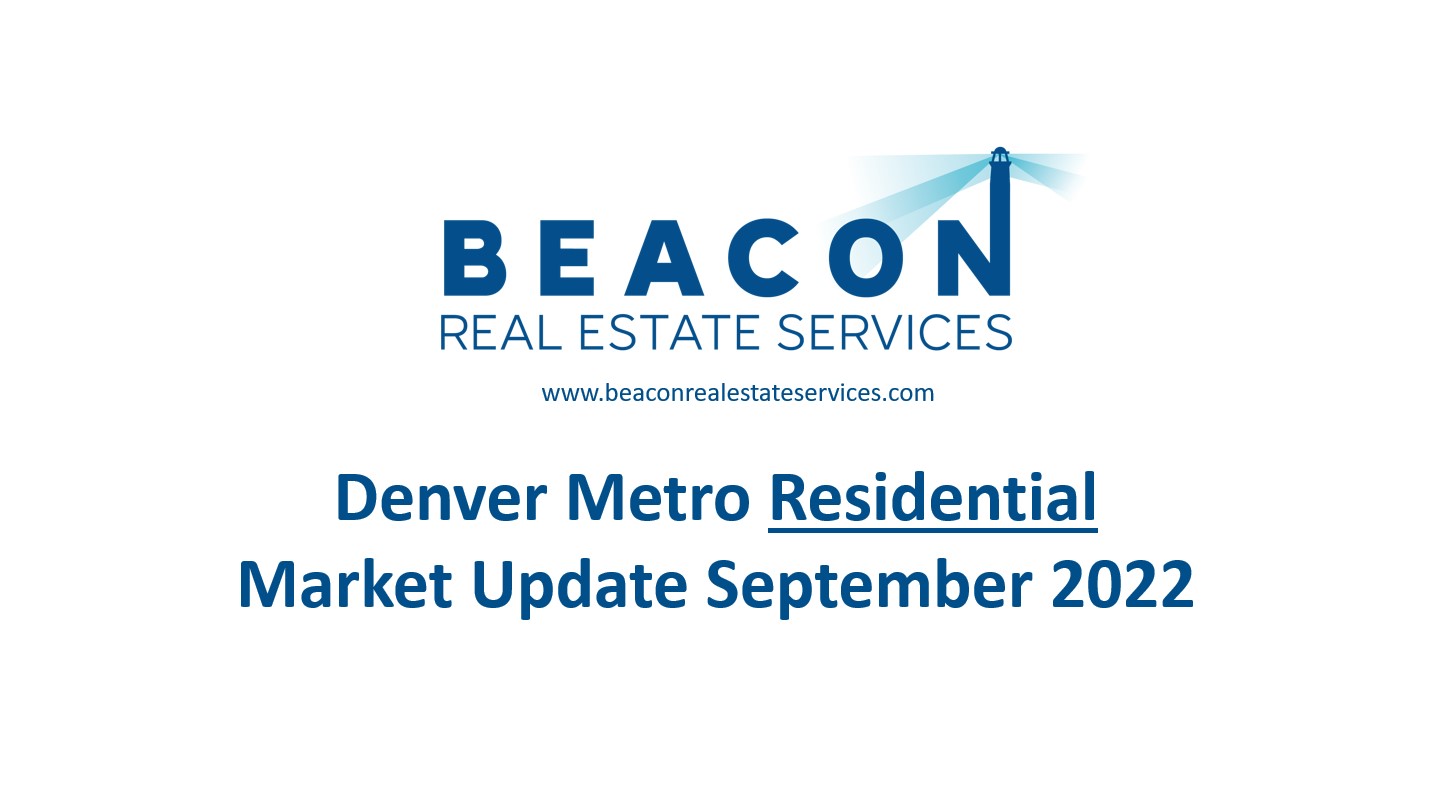 The residential real estate market is changing some more! Inventory is 66.8% higher than last year and has continued to increase. The 30-year mortgage rate hit 7% to 7.5% depending on which lender we look at. With inflation still over 8% the Federal Reserve will be raising rates in November and December and quite possibly into 2023. New contracts fell month over month and year over year. Let's dive into the key market data for the Denver residential real estate market to see what is happening in Supply, Demand, Sales Prices, and Months of Inventory for September 2022.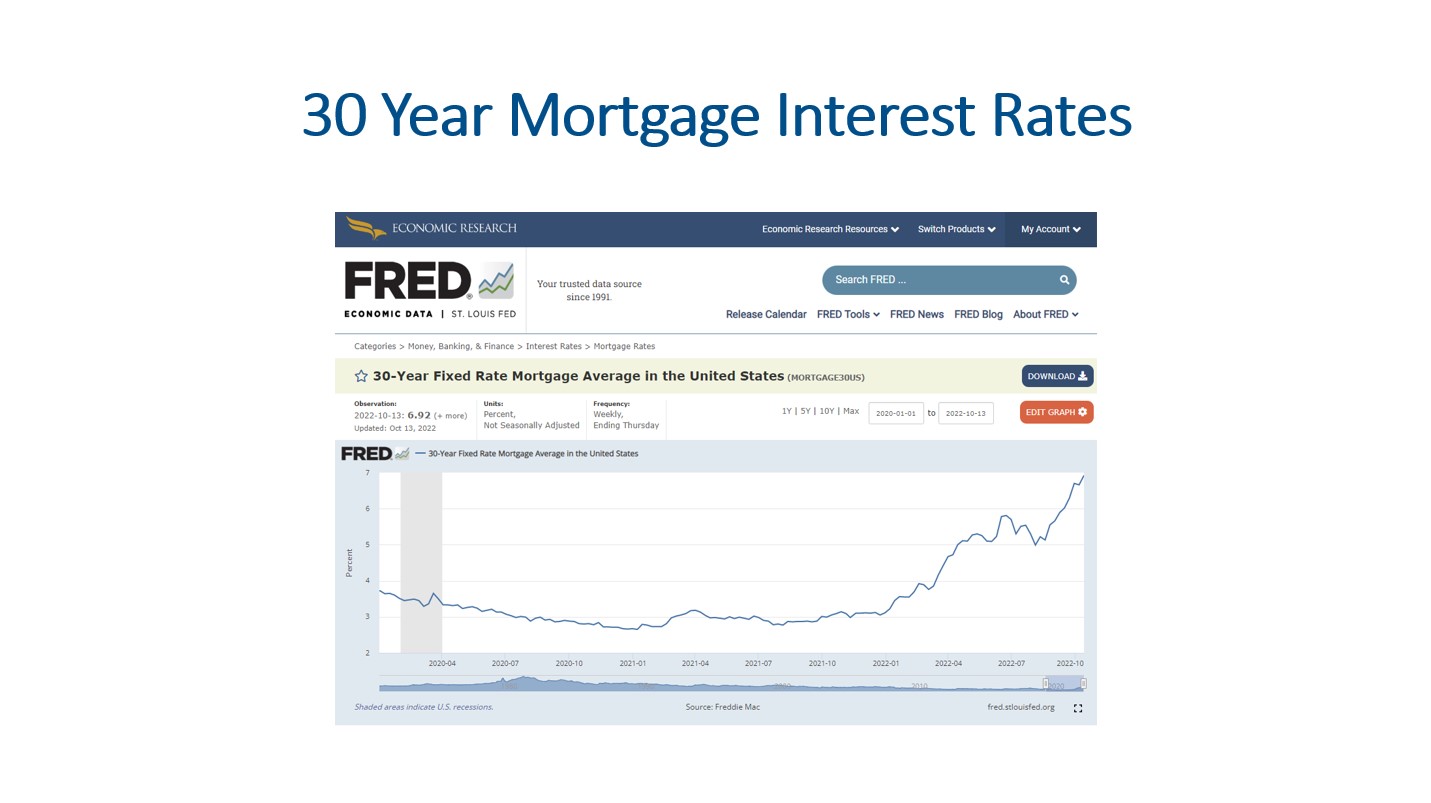 Supply
We saw 5,487 new listings during September 2022. This is very close to the 5,468 new listings in August. There is a seasonal slowdown that happens but it is starting earlier than normal.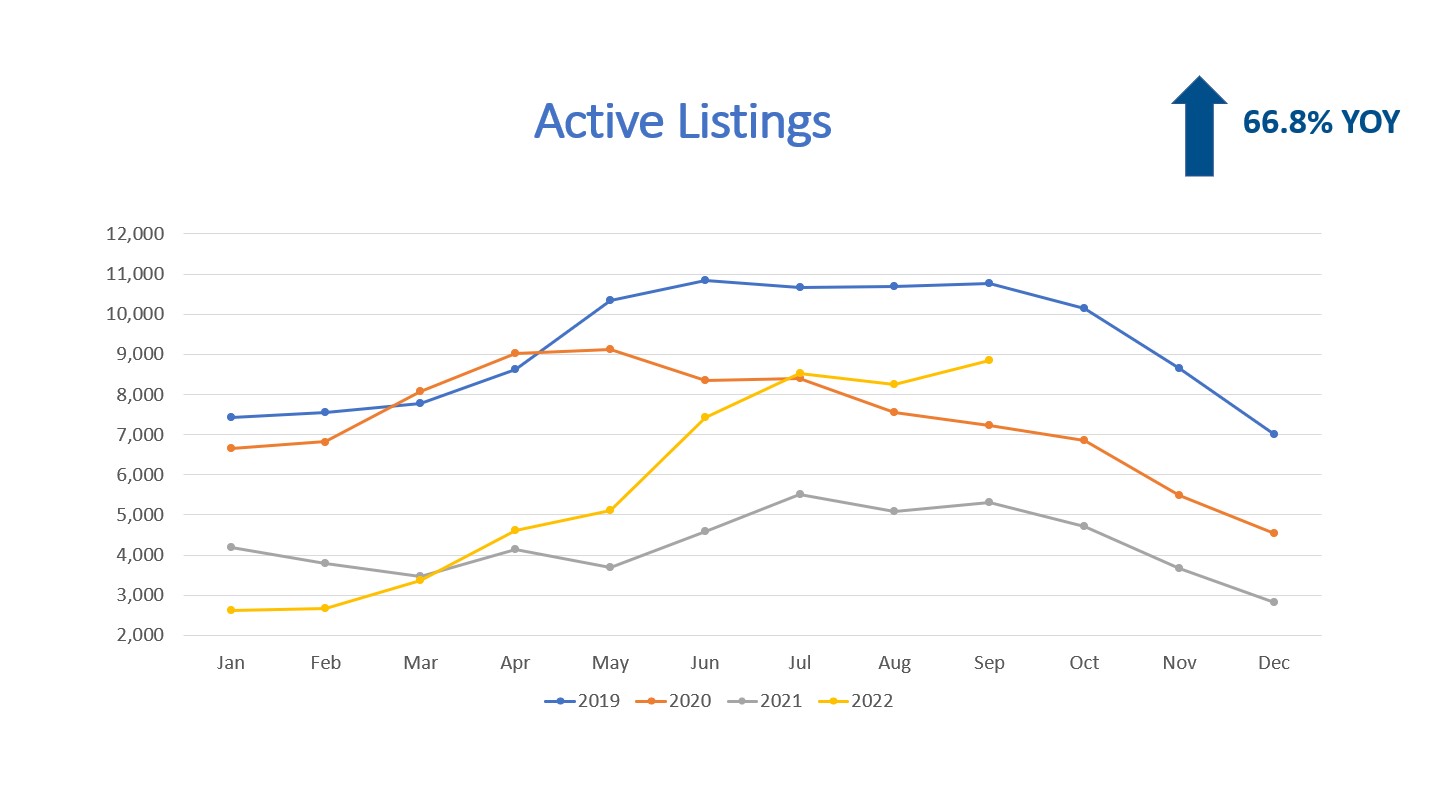 When we look at the total amount of active listings at the end of the month, we had 8,842 active listings. This is the highest level in nearly three years and is 66.8% higher than September 2021. The inventory levels are likely to reach 2019 levels in the next month or two and will likely trend even higher in 2023. Buyers now have a lot more options when they are shopping for a home, and they aren't having to shoot for the moon with their offer prices to get a home. Therefore, buyers are experience a welcome change compared to 2020 and 2021 when it was so hard to buy.
Year to date detached single-family home construction starts, for the Dener Metropolitan Statistical Area (MSA), are down (10.1%) compared to 2021 but are up 7.6% compared to 2020. Home builder sentiment has hit the lowest level in the last 13 months. We believe the higher material prices, higher labor costs, and higher interest rates will continue to slow new construction.
On the multi-family front (5+ units), construction starts are up 8.8% YOY and up 50.6% compared to 2020 according to Census Data. CoStar reports that Denver has 25,863 apartments under construction right now is the highest volume in 22 years.
All in all, supply for residential homes for sale is undergoing a significant change in market conditions. Let's look at demand.
Demand
Showings are the leading indicator for contracts and closings. The average total showings for September during 2019, 2020, 2021 was 89,164. September 2022 had 49,639 showings (55.6% of what we should have)! Higher home prices, higher rents, higher interest rates, high inflation, and overall market uncertainty appears to have taken a large portion of buyers out of the market.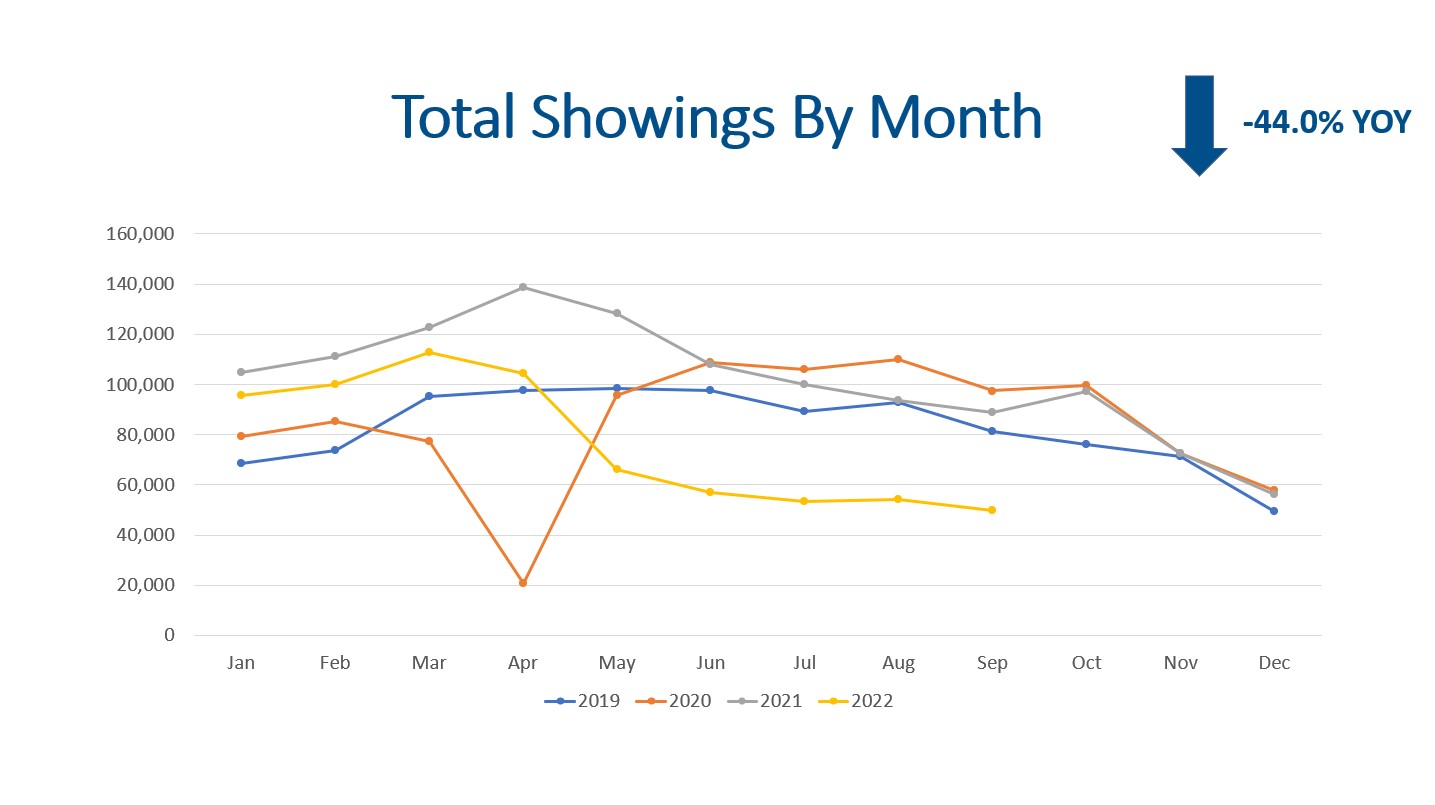 Denver had only 3,520 properties go under contract in September 2022. This is a (31.1%) decrease compared to September 2021 and is a (18.2%) decrease compared to August 2022.
There were 4,155 closings in September 2022 compared to 4,330 in August 2022. This is a (4.0%) decrease month over month. A year ago, we had 5,468 closings, so closing volume is down (24.0%) YOY. Year to date, there have been 40,123 closings compared to 47,023 closings during the same period in 2021. This represents an overall decline in closings of (14.7%).
The median days on market for September 2022 was 16 days. This means half of the properties listed are selling in just over two weeks and half are taking longer. We expect this figure will continue to increase. The average marketing time is now 27 days on market.
In summary, demand for housing has been temporarily suppressed by the higher interest rates, so we believe pent up demand for housing is being created right now. Let's look at sales prices.
Sales Prices
The median sales price for September was $572,740. This is very close to the $573,000 in August. This metric includes detached homes, condos, and town homes.
If we look just at detached homes, the median sales price was $625,745. This is down (2.2%) lower than August but is 8.8% higher than September 2021.
Condos and town homes came in at $364,000 in September. This was 3.4% higher than August, and 7.1% higher than September 2021.
We are very close to the long-term average appreciation of 6%. Time will tell if the year over year changes get to zero or go negative. We know that 18%+ year over year home price appreciation wasn't sustainable because wages aren't growing that fast.
In summary, sales price appreciation is moderating. Let's look at months of inventory.
Months of Inventory
The months of inventory is a great indicators to watch for market trends but this is lagging behind showing volume and the steady increase of inventory this year. Typically, a seller's market has 0-3 months of inventory. A balanced market has 4-6 months of inventory, and 7+ months of inventory is a buyer's market. In a seller's market prices go up. In a buyer's market prices go down. I would argue that we are seeing a buyer's market right now even before the inventory rises further.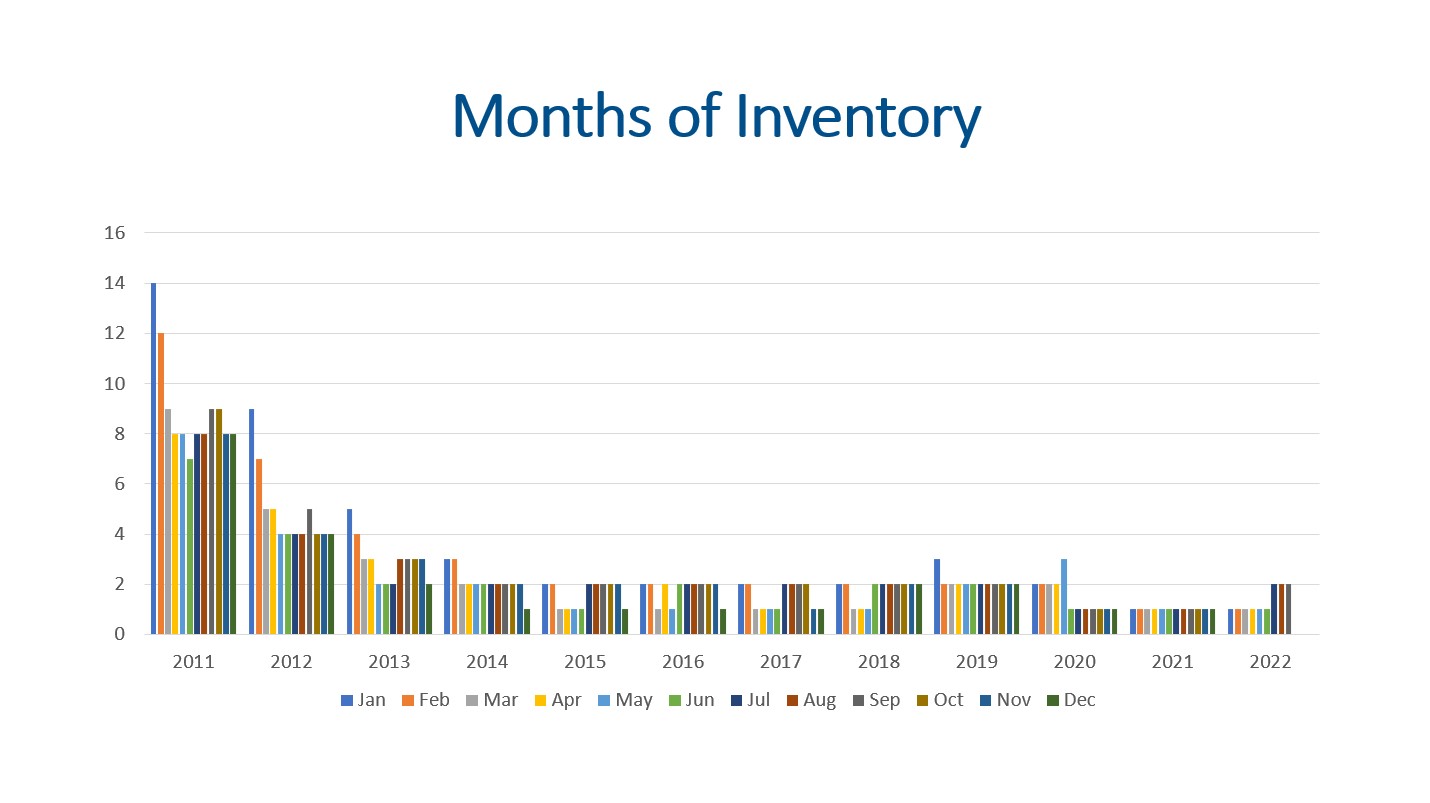 With 8,842 listings on the market and 4,155 closings, we have 9.12 weeks of inventory. This is up from the 8.16 weeks in August and up considerably from the 3.08 weeks in March of 2022.
All in all, months of inventory is increasing.
Final Thoughts
In conclusion, supply, demand, sales prices, and months of inventory are all important key performance indicators worth monitoring closely. Supply is low by historical standards but has steadily increased this year. Demand is weakening. High prices, high rents, high interest rates, high inflation, and uncertainty in the economy is slowing showings, new contracts, and closings. The 30-year mortgage interest rate is the highest it has been since 2008. Lastly, with 9.12 weeks of inventory, annual home appreciation will continue slowing and may give back some of the gains.
Here is a link to the full presentation: