Denver Commercial Real Estate Market Update Multi-Family Q3 2021 October 16, 2021
Multi-family had another big quarter! There was $1.9B in sales in Q3. Multi-family commercial real estate is the favored product type of this cycle. Residential is the easiest to lease and the easiest for most people to understand. Let's dive into supply, demand, new construction, and leasing.
Supply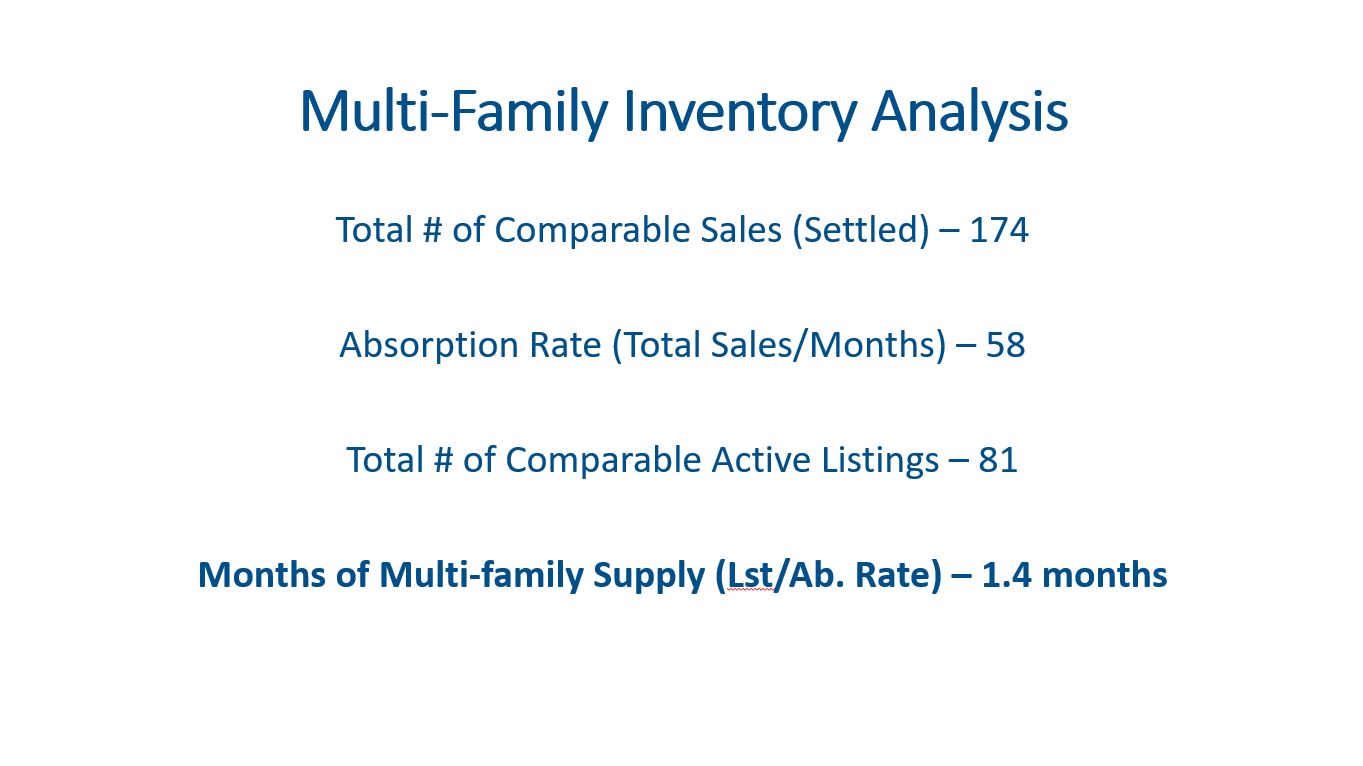 There are currently 81 multi-family listings for sale in the Denver Metro Area. These active listings range from $525k to $7.5M. The unit counts on these properties range from 3 units to 48 units.
Demand
Demand for buying multi-family properties is still very strong. When reviewing Q3 activity, we found 174 closed sales. The Q3 absorption rate was 58 sales per month, and the months of inventory is 1.4 months.
The price per unit saw a 14.9% increase YOY. Capitalization rates compressed from 15 basis points to 4.146%. The market is seeing this commercial real estate product type as being less risky compared to a year ago and all other commercial property types.
The YTD sales, in dollar volume, is up 102% when compared to the same period in 2020.
New Construction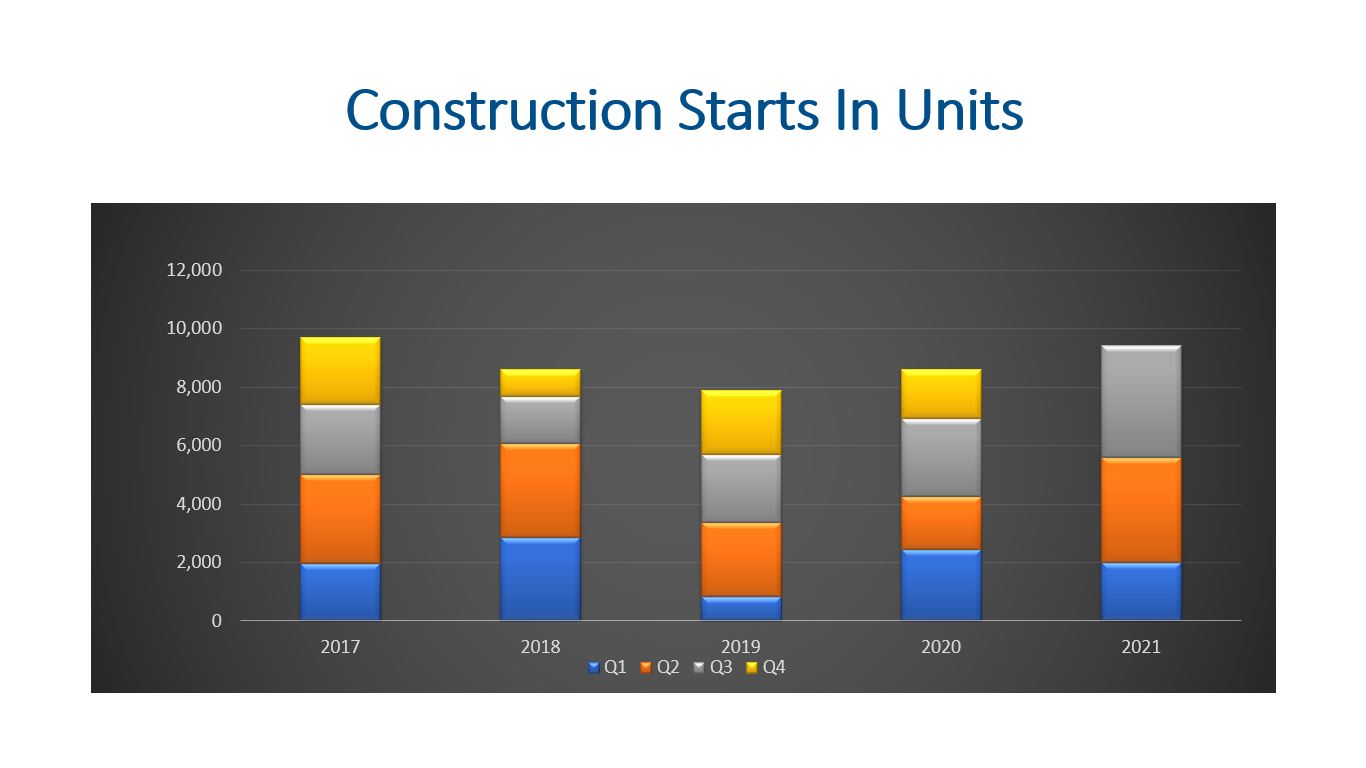 Developers started construction on 3,813 new units in Q3 2021. YTD 9,421 units have been started, which represents a 35.7% increase of the same period last year.
There are currently 18,348 units under construction. If the average unit was 1,000 sf, this would mean we have around 18,348,000 sf under construction. This is nearly 3 times the amount of industrial space being constructed.
Developers delivered 3,384 units to the market during Q3.
Vacancy Rates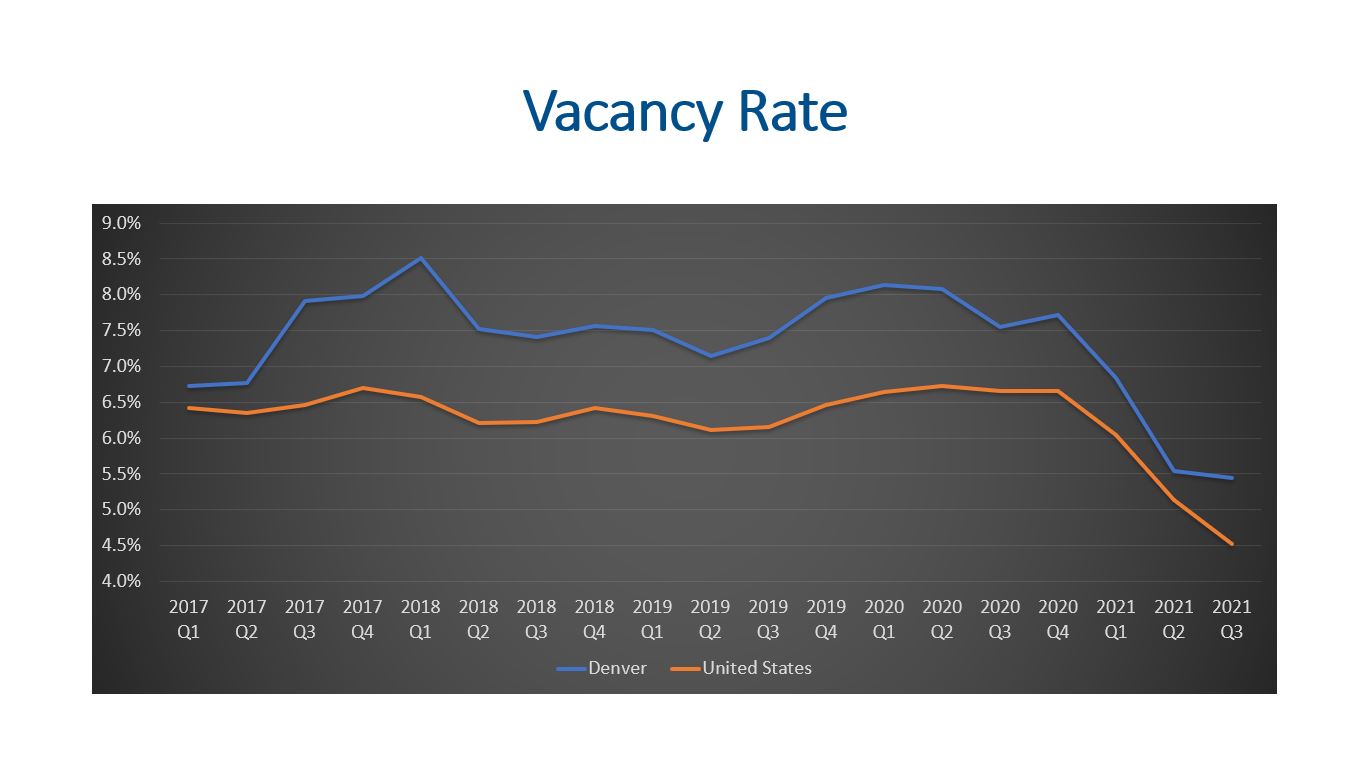 Vacancy rates in Denver have been trending higher than the national average since Q2 of 2016. However, both Denver and the national average have gone down significantly since Q4 2020. Denver ended Q3 2021 at 5.5% compared to the national average of 4.5%.
The newer 4-5 star properties have a vacancy rate of 6.5% which is amazing because 4-5 star properties had a 10.97% vacancy rate back in Q1 2020. The 3 star properties have a 4.7% vacancy rate, which is down from approximately 6% in Q1 2020.
Leasing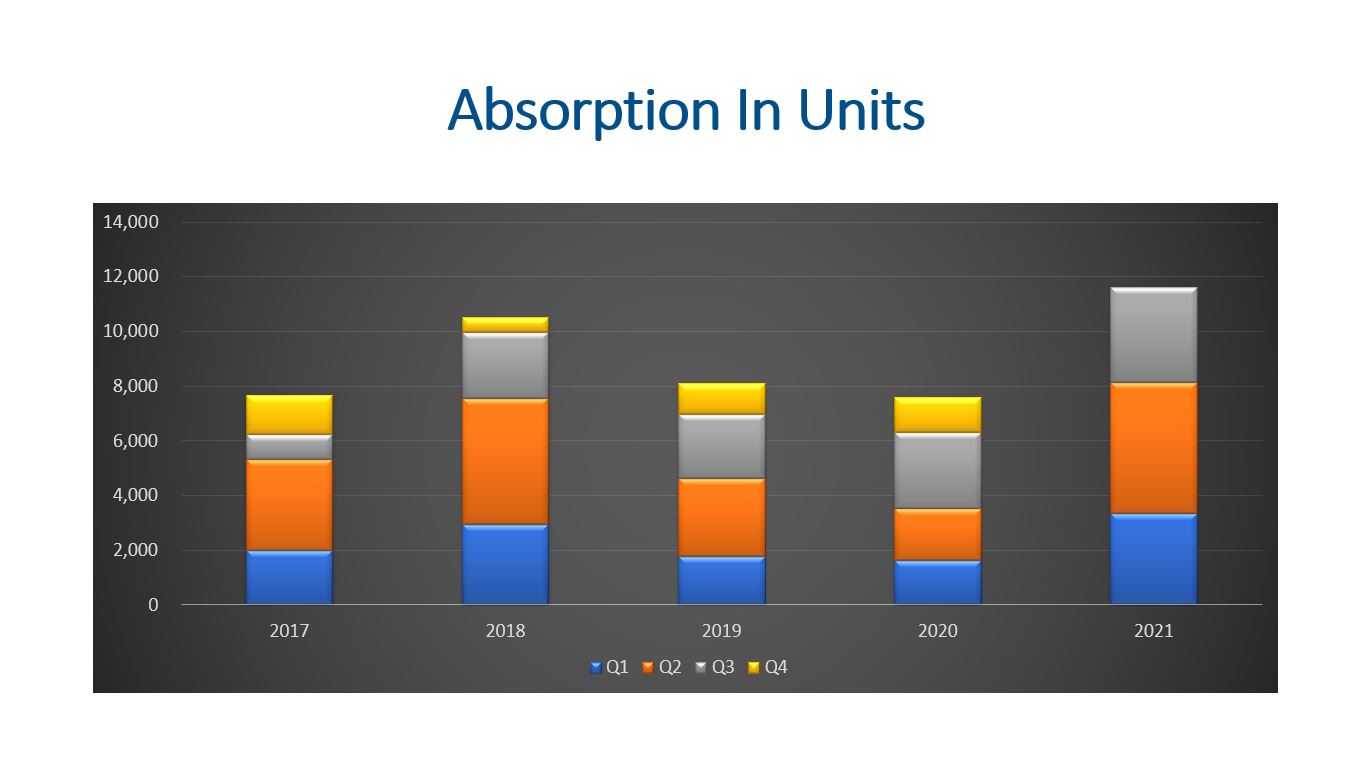 The average gross lease apartment rent varies by bedrooms. Studio units are renting for $1,390 per month, and one-bedroom units are leasing for $1,536 per month. Two-bedroom units are renting for $1,902 per month, and 3-bedroom units are now leasing for $2,396. Each of these unit types are higher than Q3 2020 by 10-13.6%.
Studio apartments have had the smallest rent growth while one and two bedroom units have seen the largest rent growth.
Tenants leased 3,462 units during Q3, which is down from the 4,809 units that they leased in Q2. Overall, the YTD absorption rate is 83.7% higher than it was last year during the same period.
Final Thoughts
All in all, supply, demand, new construction, vacancy rates, and leasing all contribute to the outlook for multi-family commercial real estate. We have a very low supply of properties for sale and very strong demand leaving us with 1.4 months of inventory. New construction starts are increasing sharply and the total units under construction are the highest they have been in several years.. Vacancy rates contracted slightly and YOY rent increases have been very high. Although Denver is seeing half the amount of net population growth compared to 2015, Denver is still growing and people need a place to live.
Here is a link to the full presentation: