Denver Metro Commercial Real Estate Market Update Industrial Q4 2020 January 12, 2021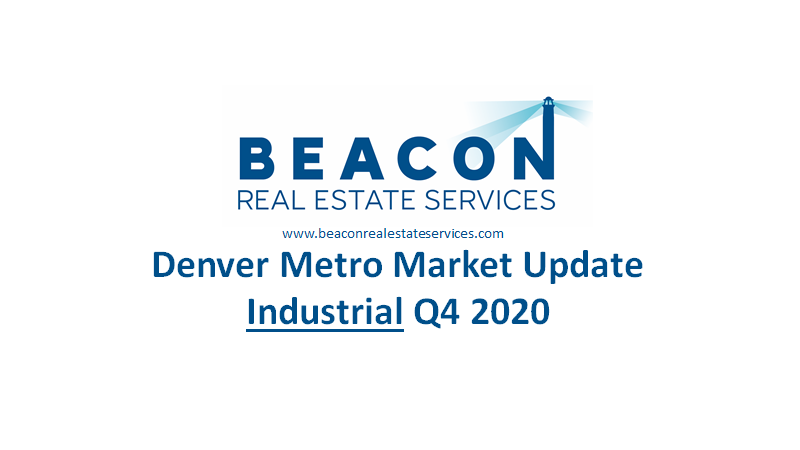 Industrial commercial real estate fared better in 2020 than every other type of commercial real estate! The demand for industrial space has been driven by changes in distribution. Let's dive in and review some of the metrics.
Supply
There are 180 active listings for industrial properties. When we compare this supply against the absorption rate we find there is 4.2 months of inventory. This higher than multi-family properties but lower than office and retail.
Demand
Demand for industrial properties stayed fairly strong with 128 sales in Q4. There were 42.6 sales per month on average. The transaction dollar volume was $580M for the quarter and $1.8B for the year. Overall, the total sales volume in dollar volume was down (15.6%) when compared to 2019.
New Construction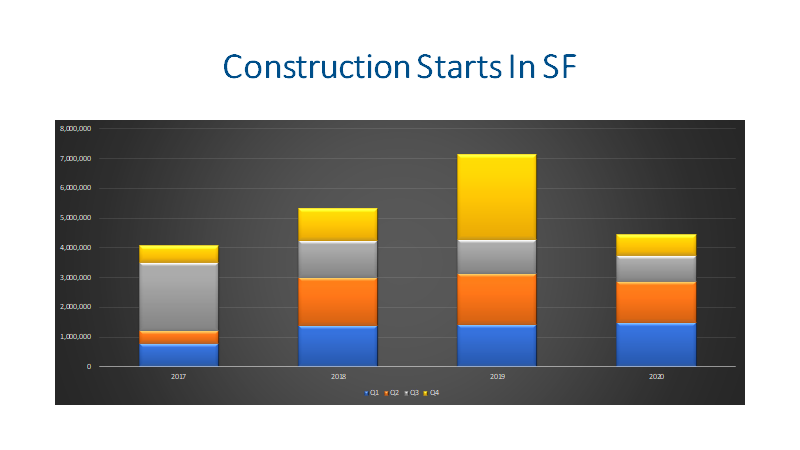 Developers started construction on 706,400 SF in Q4 and 4.5M SF for 2020. The total construction starts is down nearly (2.7M SF)/ (37.7%) when compared to 2019. I believe this is due to the larger pipeline of industrial properties under construction. The average amount of SF under construction between 2018 to 2019 was 5.3M SF, but the average SF under construction during 2020 was 6.7M SF.
The industrial market in Denver is around 253M SF so the market is set to expand by approximately 2.5%. The net deliveries in the quarter totaled 1M SF.
Vacancy Rates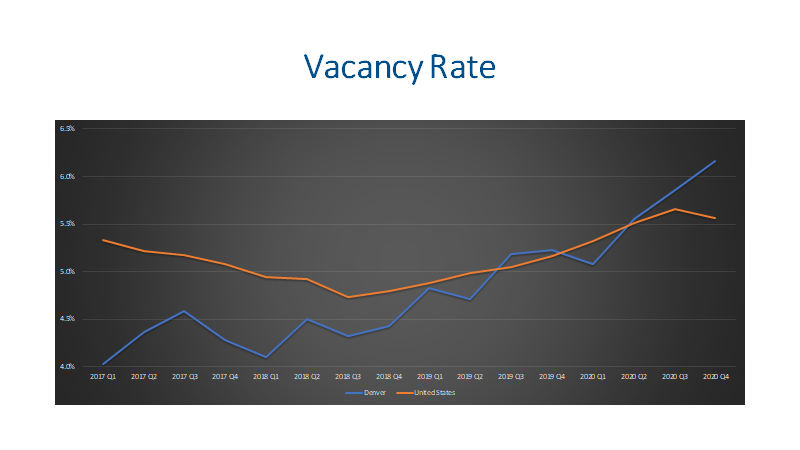 Vacancy rates have crept higher to 6.2% in Q4 2020. This is an increase of 0.93% over Q4 2019. This isn't bad given the supply has increased by about 2.5%.
Leasing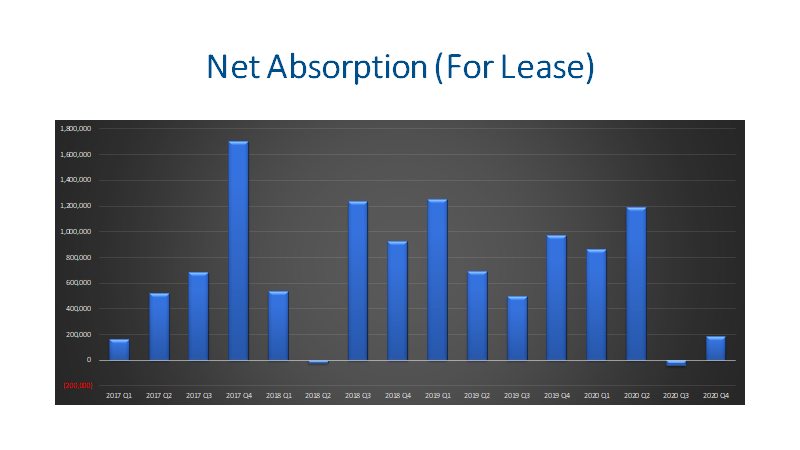 The average NNN lease is $9.99 per SF per year for industrial space. Flex space is being leased around $13.83 while logistics is around $9.63. The average months on market for industrial space during Q4 2020 was 6.5 months. The negative net absorption for Q3 was revised down from (750K SF) to (43.5K SF) as CoStar found more properties that were leased. For the year, 2020 saw an absorption of 2.185M SF. This is down (35.9%) when compared to 2019, but 2019 was a record setting year with 3.4M SF being absorbed. For perspective 2018 saw 2.67M SF of absorption.
Final Thoughts
Supply and demand for industrial properties are in line and balanced. Although construction starts declined some, we have the highest volume of SF under construction when looking back over the last few years. I expect that industrial commercial properties in Denver will continue to do well for the foreseeable future.
Here is a link to the slides for the full analysis: