Denver Metro Commercial Real Estate Market Update Multi-Family Q1 2021 April 13, 2021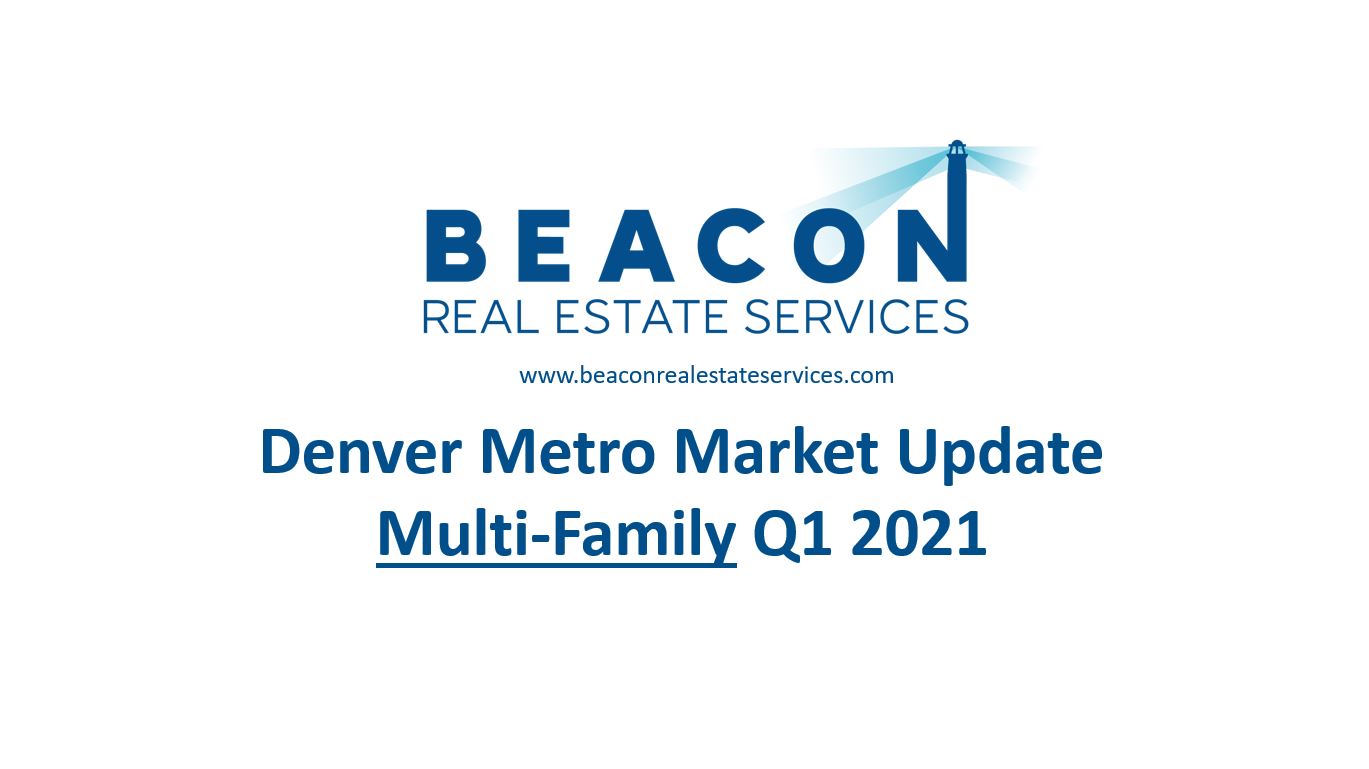 Multi-family commercial real estate still seems to be the favored product type. It is the easiest to lease and the easiest for most people to understand. Tenants need a place to live, so they rent an apartment for a year.
Supply
There are currently 67 multi-family listings for sale in the Denver Metro Area. These active listings range from $740,000 to $12.5M. The unit counts on these properties range from 4 units to 58 units. The only properties on the market with more units are portfolio sales where multiple buildings are being sold.
Demand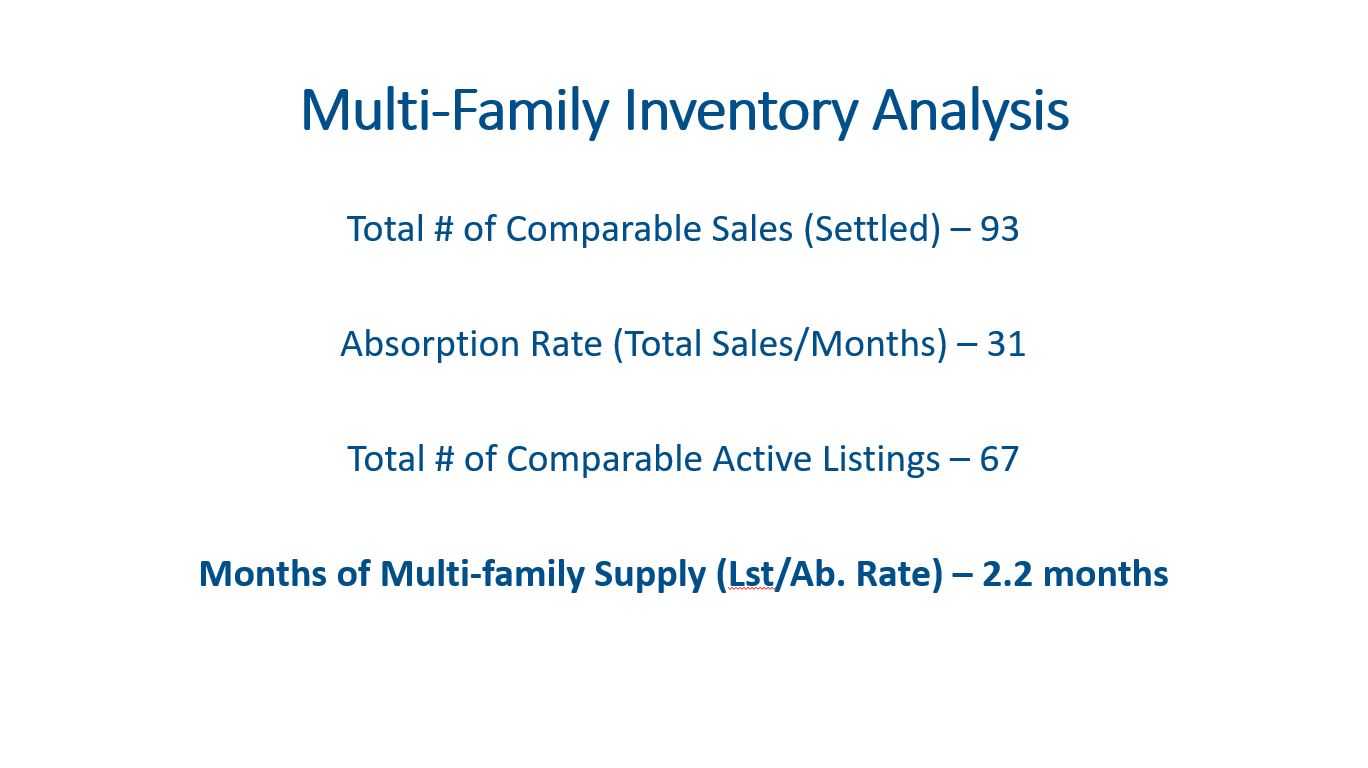 Demand for buying multi-family properties is still strong. When reviewing Q1 of 2021, we found 93 closed sales so roughly 31 sales a month. At this absorption rate, the current listings would be gone in 2.2 months if no new properties hit the market. This the lowest of any commercial real estate property type.
Capitalization rates continued to compress moving from 4.662% to 4.640%. This is another indicator of demand for this product type as it is seen as less risky than other product types.
There was a decline in total sales volume but part of that is due to a lack of big deals. In the first quarter of 2020, there were three sales over $100M, but we didn't have any of those large deals in Q1 2021.
New Construction
Developers started construction on 1,400 new units in Q1 2021. This was 1,009 fewer units compared to Q1 2020.
There are currently 14,724 units under construction. This is down about (3.3%) compared to the same time last year and off about (9.4%) from the average Q1 volume over the last five years.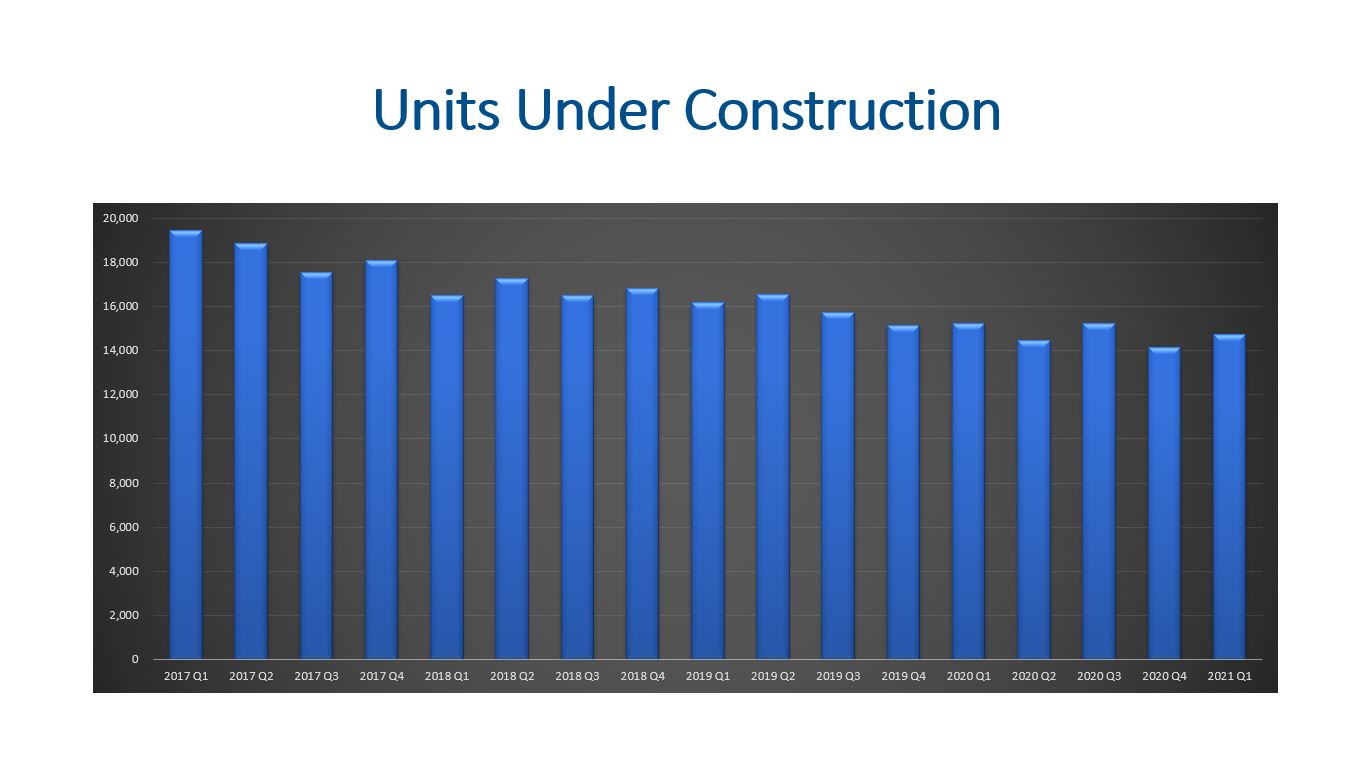 Developers delivered only 840 units to the market during Q1. This represents the lowest volume in the last four years for Q1.
Vacancy Rates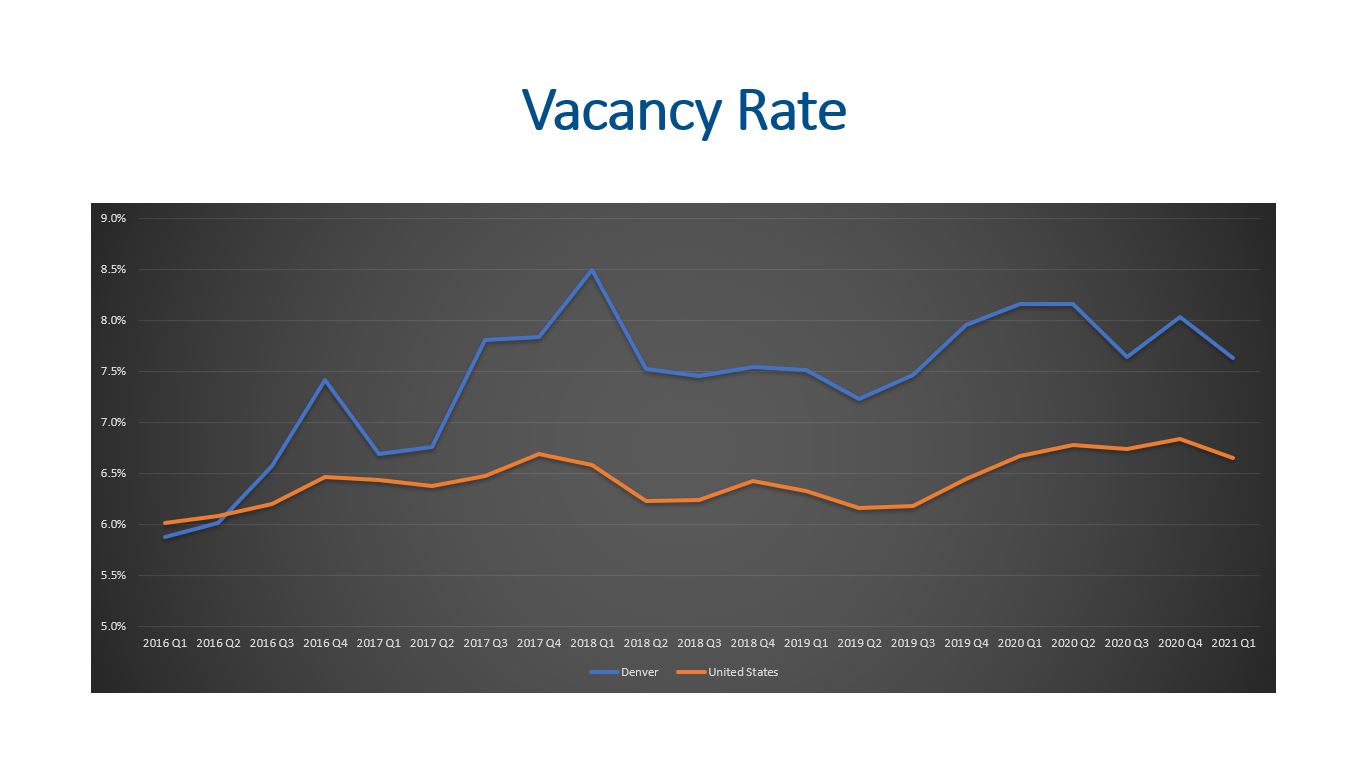 Vacancy rates in Denver have been trending higher than the national average since Q2 of 2016. Denver ended Q1 2021 at 7.6% compared to the national average of 6.7%.
The newer 4-5 star properties have a vacancy rate of 8.9% while the 3 star properties have a 6.7% vacancy rate. The Oxford Economics forecasts we are watching show variety of possibilities for vacancy rates. The moderate upside model shows a rise in Q2 and coming back down by the end of the year in. Alternatively, the severe downside model shows vacancy rates climbing to 10% in Q3 2022 before reversing and gradually coming down.
Leasing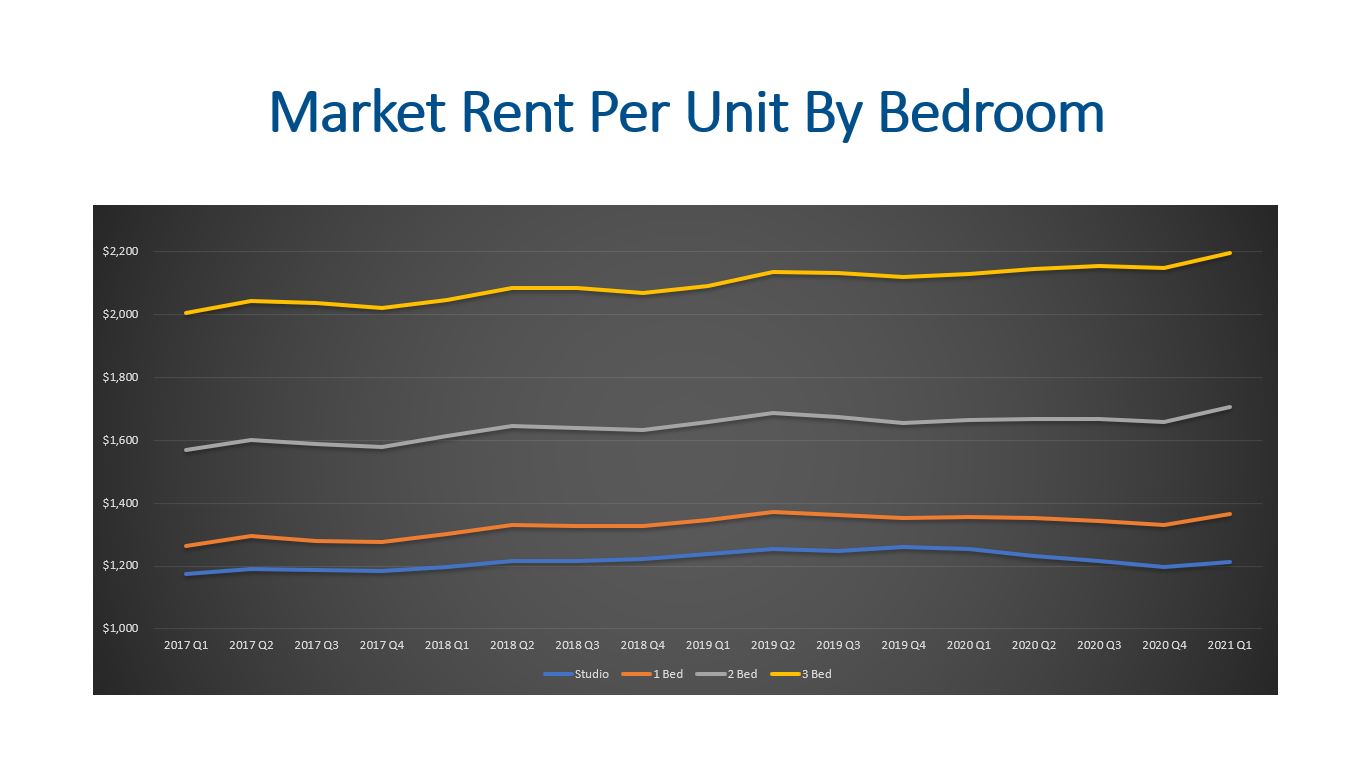 The average gross lease apartment rent varies by bedrooms. Studio units are renting for $1,213 per month, and one-bedroom units are leasing for $1,367 per month. Two-bedroom units are renting for $1,707 per month, and 3-bedroom units are leasing for $2,196. Each of these unit types are higher than Q4 2020.
Tenants leased 1,822 units during Q1. This absorption was 13.4% higher than the same time last year.
Final Thoughts
Supply and demand for buying and selling multi-family properties is in a great position with only 2.2 months of inventory. Developers are starting, working on, and delivering new units, but they are not building as many units as they have in the past. Vacancy rates are expected to rise in the near term. Lastly, leasing prices are higher than last quarter but part of that is the seasonality of leasing apartments.
Here is a link to the full presentation: