Denver Metro Commercial Real Estate Market Update Office Q1 2021 April 12, 2021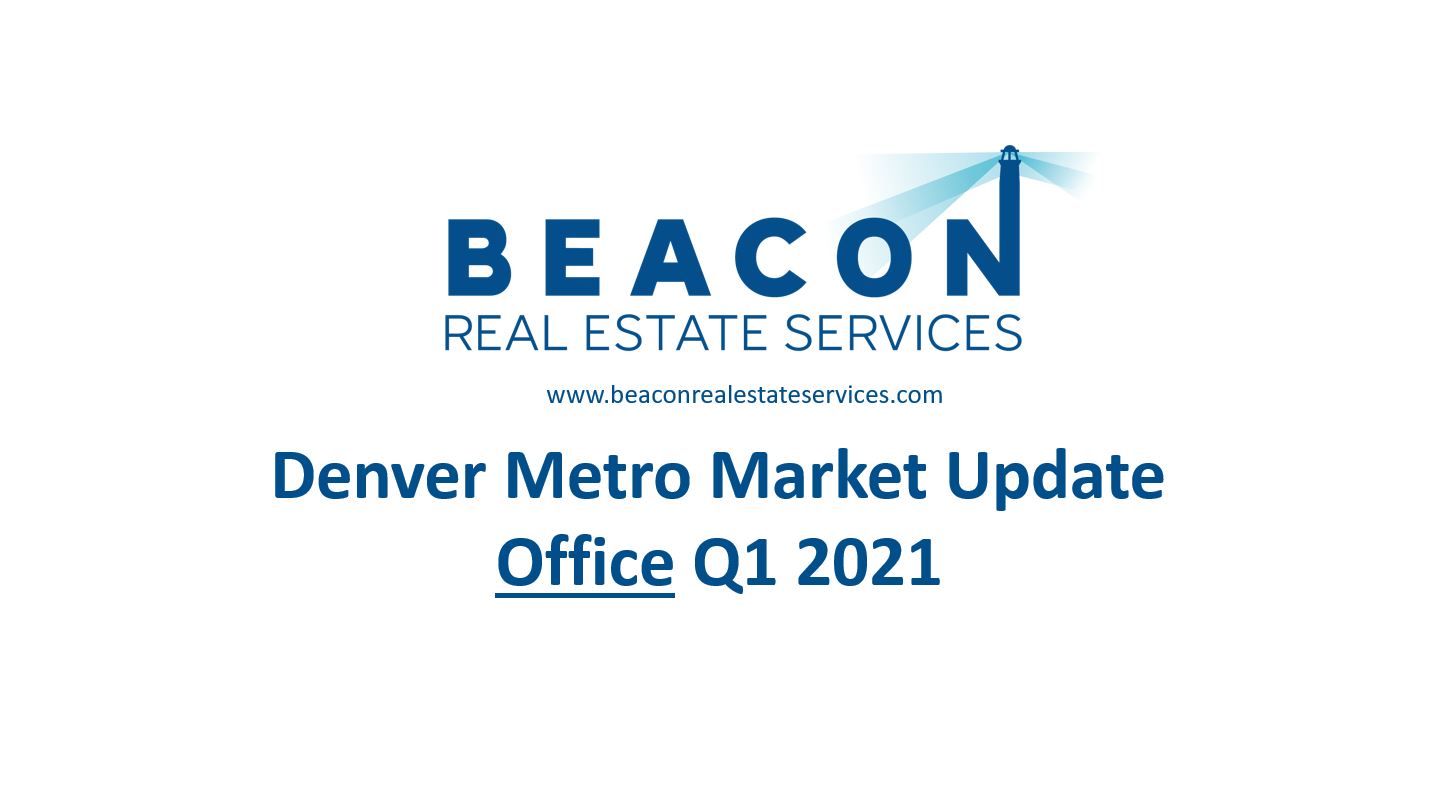 Office has had a mixed bag of headlines over the last year. Some companies have launched programs for employees to be fully remote and others have started announcing plans to reopen their offices in the coming months.
Supply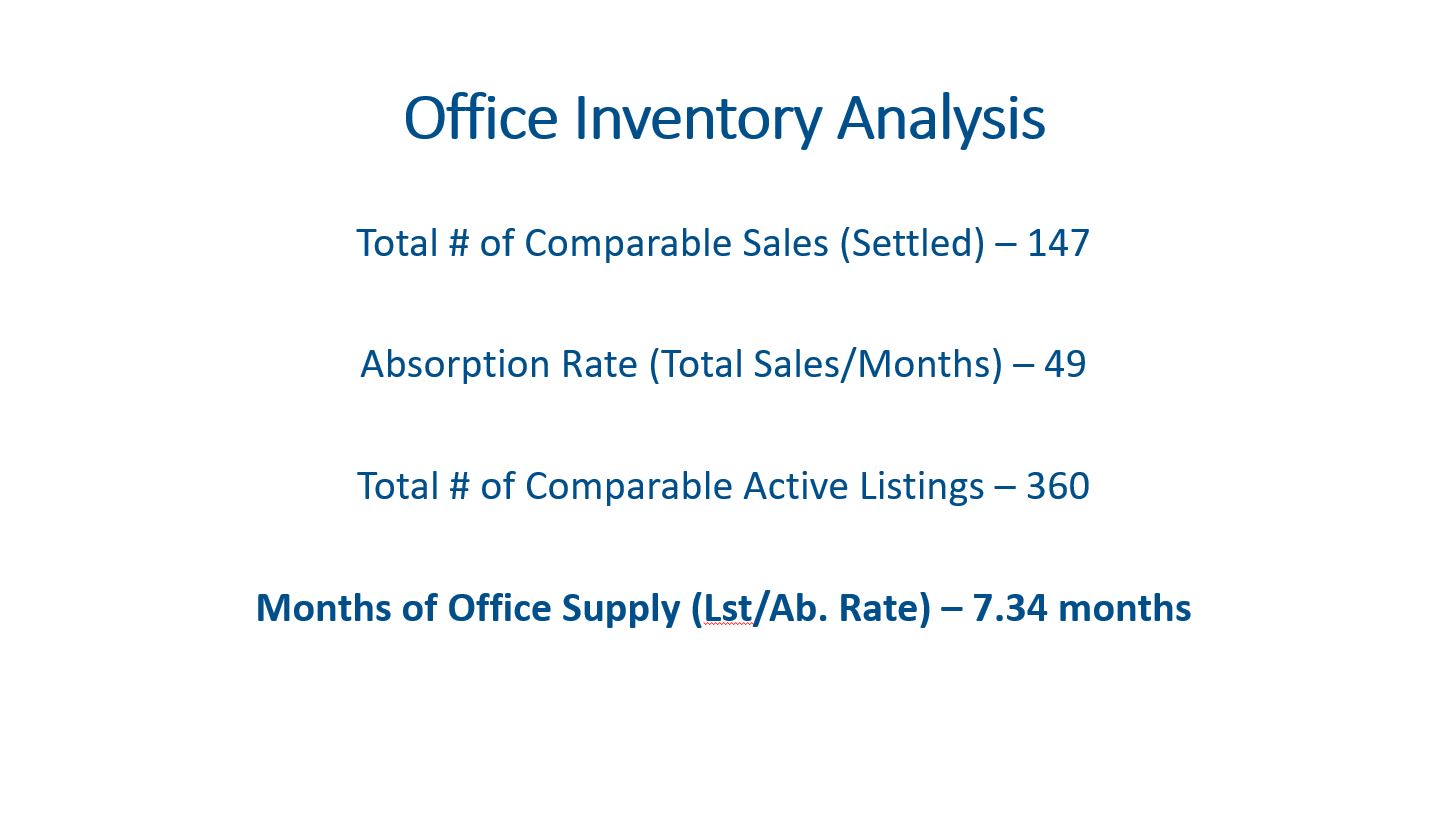 There are 360 office buildings and condos for sale in the Denver Metro Area. When comparing this supply to absorption rate we have 7.34 months of inventory. Although this is higher, it is less than the 9.5 months of inventory in Q4 2020. With that said, this is still much higher than the 2.3 months of inventory for multi-family.
Demand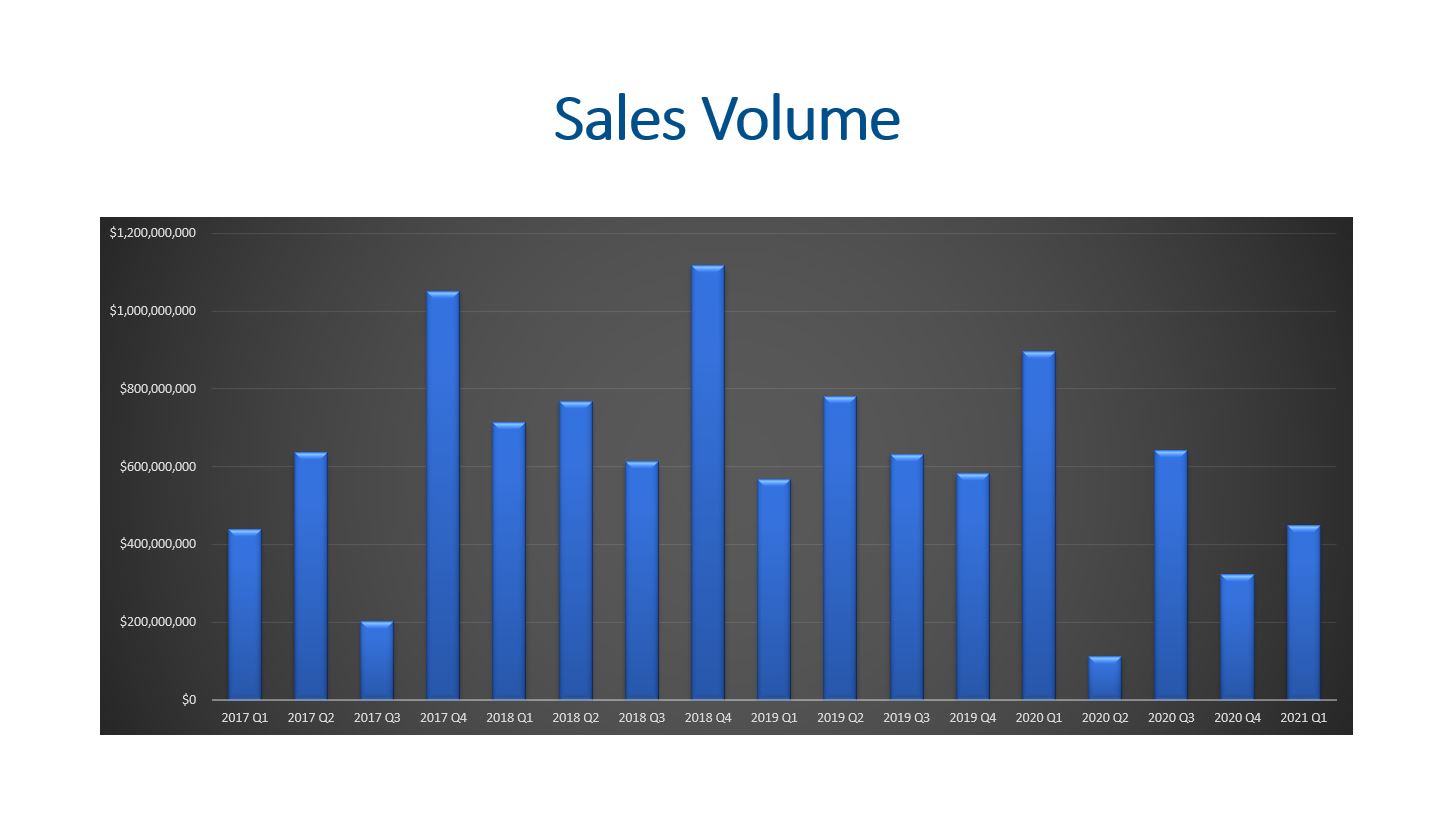 The sales volume for office properties in Q1 2121 was down (49.7%) when compared to Q1 2020. When diving deeper, there were 147 office sales in Q1 2021 compared to 168 office sales in the same quarter last year, which is a (12.5%) decline. The big difference in the sales dollar volume comes from the mix of sales. Last year there were three sales over $160M each; whereas, this year we only had one sale over $70M.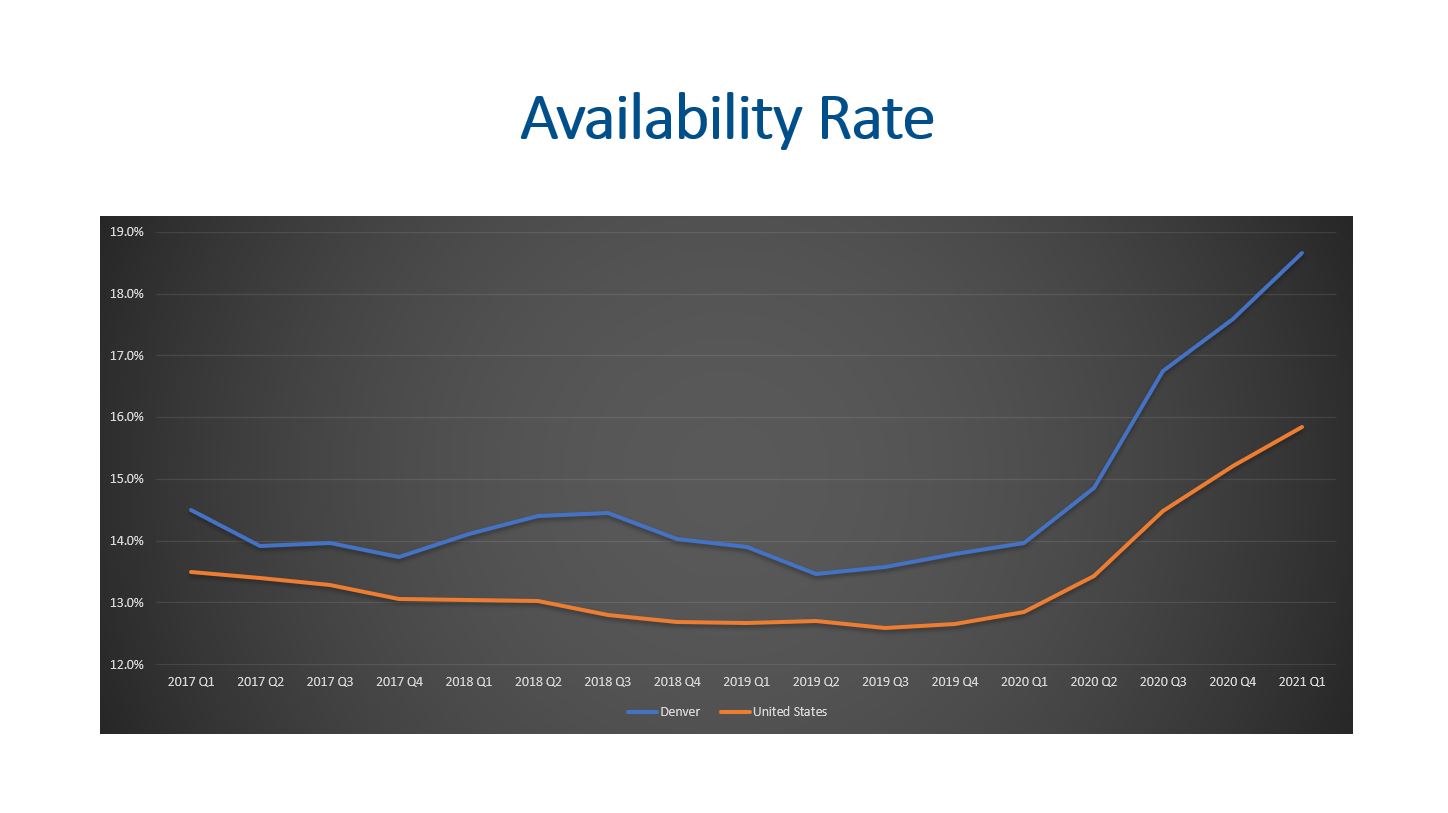 Demand for leasing space is in decline. There has been modest rental rate compression as vacancies rise. The vacancy rate for Denver has risen to 13.4% and the availability rate has increased to 18.7%. The availability rate includes both vacant and occupied properties that are on the market. For reference, the vacancy rate in Q1 2020 was 10.1% and the availability rate was 14.0%.
Lastly, since the start of the pandemic we have had a negative net absorption of 5,024,488 sf of occupancy. Ouch! The forecasts I am looking at show a variety of possibilities. The Oxford Economics moderate upside shows absorption turning positive by Q3; whereas, the severe downside shows us losing another 2.1M sf of occupancy before turning positive in Q2 of 2022.
New Construction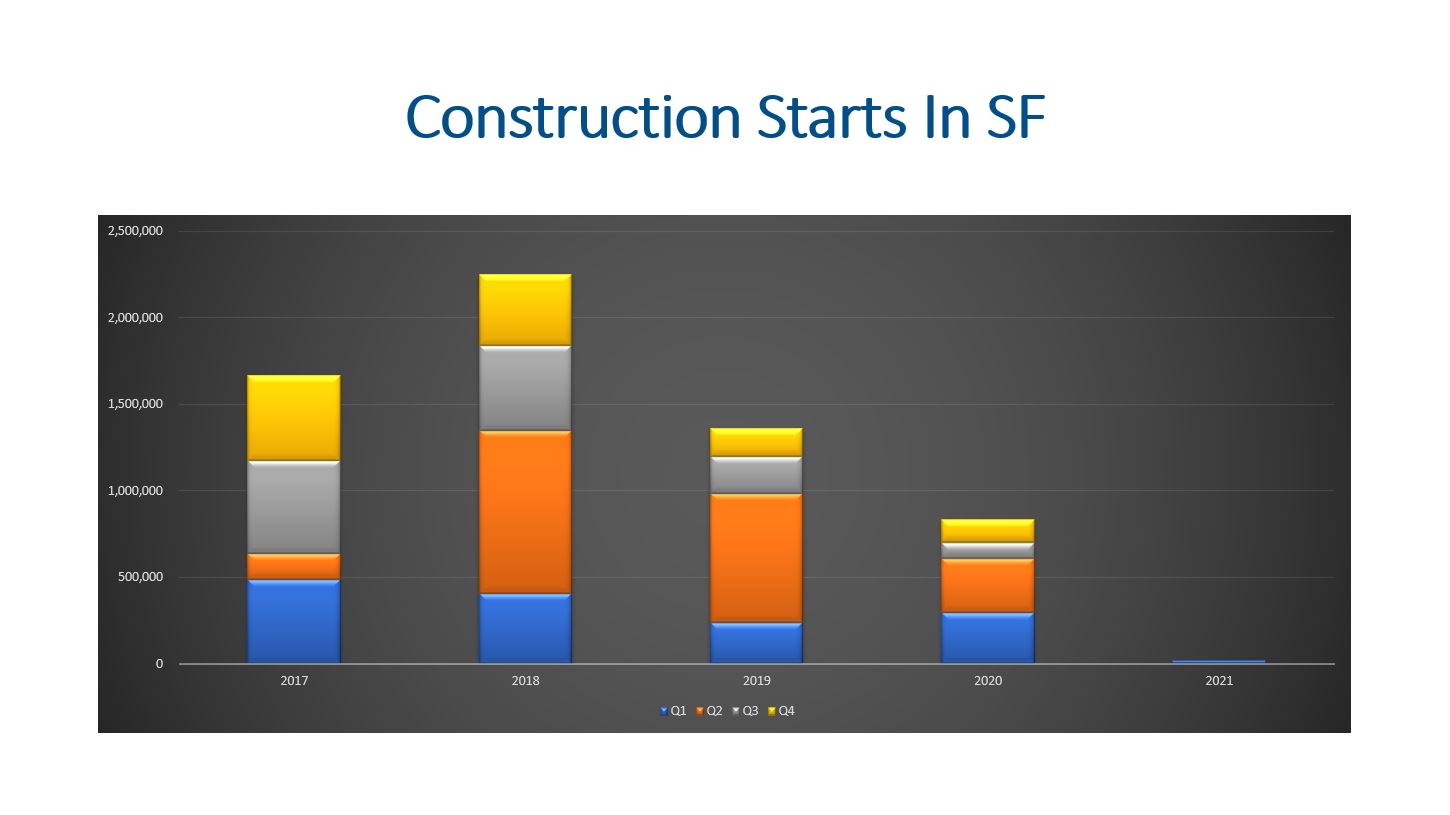 Developers started construction on just 15,170 sf in Q1 2021 compared to the 292,802 sf in Q1 of 2020. This is a new low for construction starts. The last time they were lower was Q3 of 2009.
Developers currently have 2.4M sf under construction, which is similar to Q4 2020.
The office market size is around 179,032,450 sf, so the current under construction will expand the market by 1.3%.
Leasing
The average Gross Lease is $28.79 and this is down about (1.8%) from a year ago. Given the rise in vacancies and availability, I would expect the decline to be more. When compared to the national average of $34.18, Denver appears to be attractive with a (16%) discount.
On average it is taking 11.7 months to find a new office tenant. With vacancies and availability rates increasing, I expect we will see an increase in the length of time to find new office tenants in the near term.
Final Thoughts
Supply and demand for buying and selling office properties are in a worse position than most of the other commercial real estate product types. Developers continued working their current projects but a new low for the last 12 years was set for construction starts in Q1. Leasing rates have compressed some, but the lease rates are still attractive compared to the national average. Negative net absorption is worth watching closely for the next year.
Here is a link to all of the slides in the analysis: