Denver Metro Commercial Real Estate Market Update Retail Q1 2021 April 13, 2021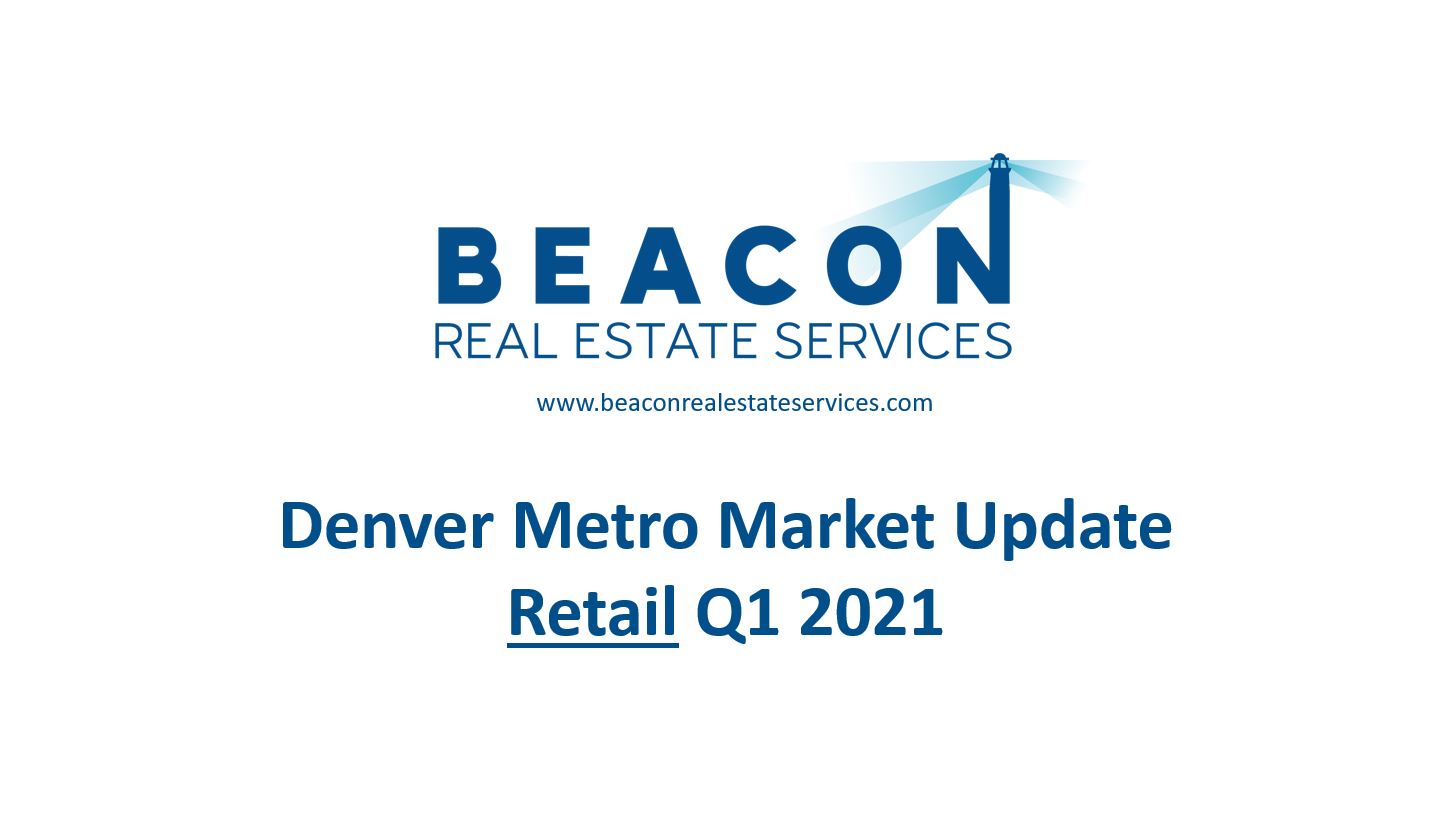 I am surprised by what I am seeing in the retail product type for Denver Commercial Real Estate. Although there are struggles in retail they don't seem as bad as what is happing in office. As I drive around Southlands Mall in SE Aurora it sure looks like they have lost occupancy. Let's check it out some of the key metrics for retail.
Supply
There are currently 323 retail properties for sale in the Denver Metro Area. These properties range from $150k with 1,360 sf to $17.2M for a 55,833 sf neighborhood retails center.
Demand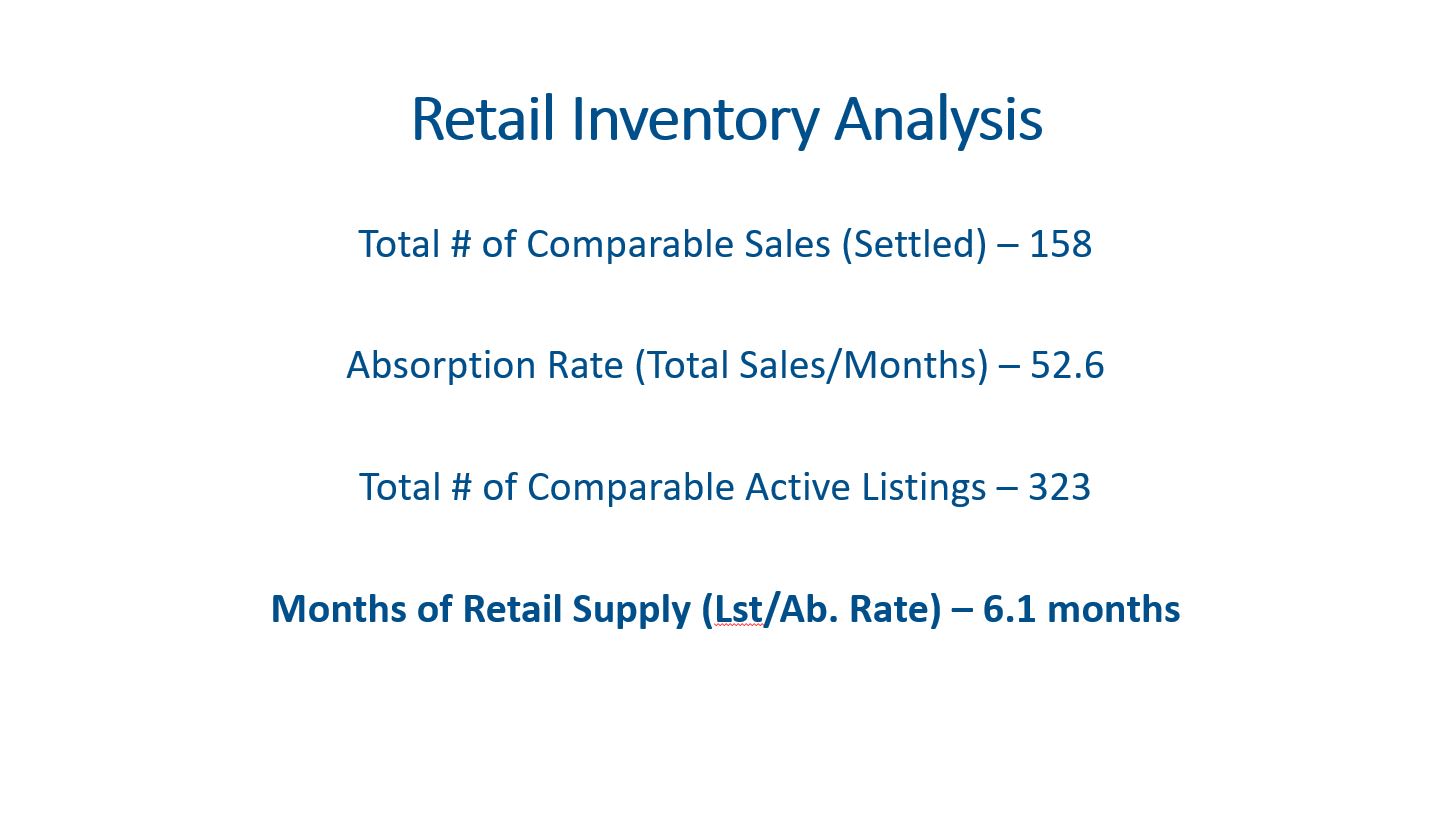 Demand for buying retail commercial properties was decent with 158 sales during Q1. This breaks down to an average absorption rate of 52.6 sales per month. The total number of transactions in Q1 2021 was similar to Q1 2020 but the transaction dollar volume was down (20%) YOY. About 60% of the dollar volume short fall is coming from the larger deals over $10M. There were four of these transactions in Q1 2020 compared to only two in Q1 2021.
Surprisingly market cap rates have hovered around 6.6% in Denver for the last 5 years or so with very little movement over the last year.
New Construction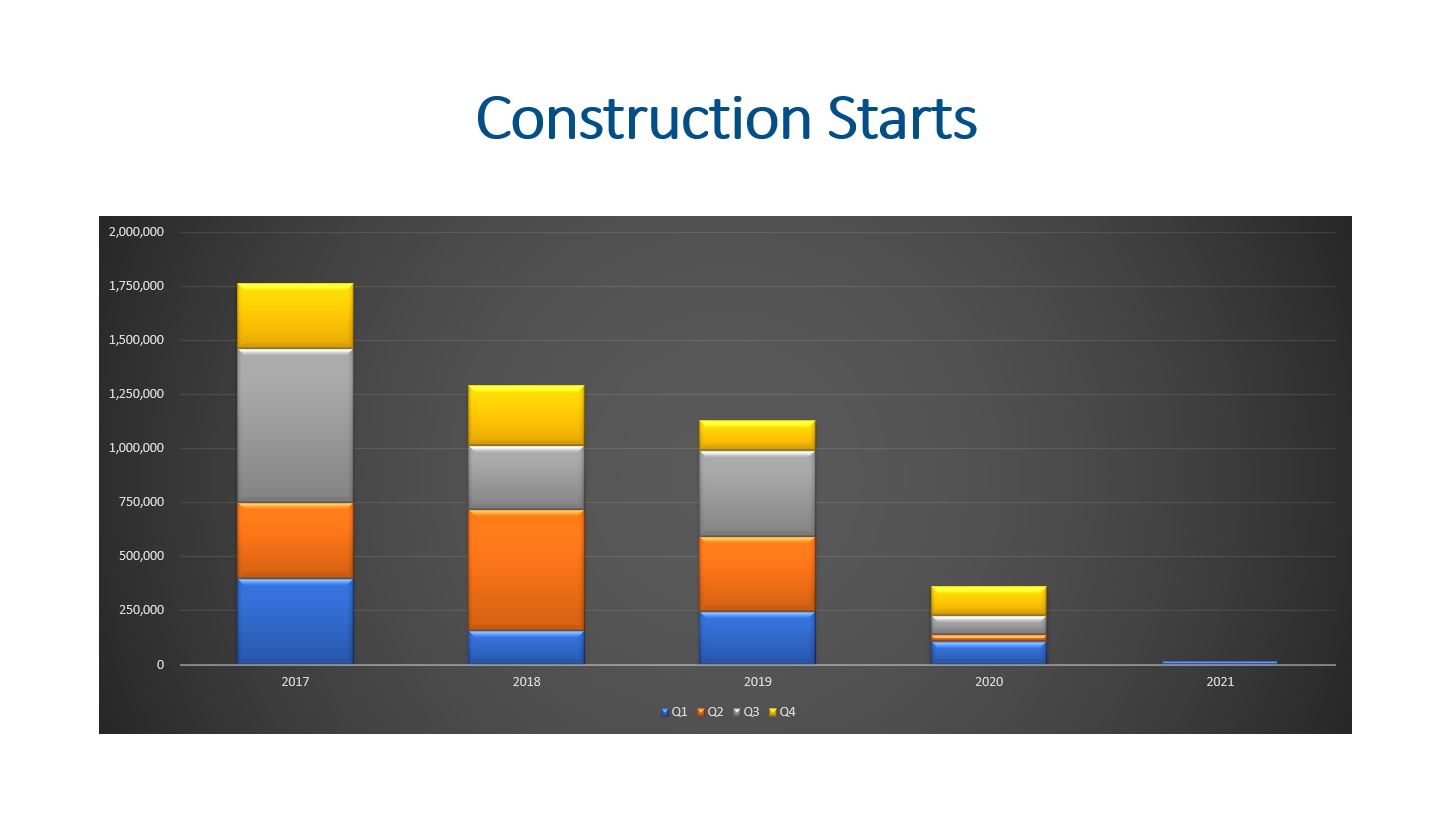 Developers started 15,520 sf of retail space in Q1 2021. I am guessing this number will be revised, but I would be surprised if it was adjusted by much. Construction starts in 2020 were down (68%) when compared to 2019.
The total sf under construction has averaged 553,197 sf over the last three quarters. The Denver Metro area has 11,753 buildings with a total size of around 159M SF. Developers currently have 534,898 sf under construction, so the retail market is set to expand by 0.33% (one third of one percent).
Vacancy Rates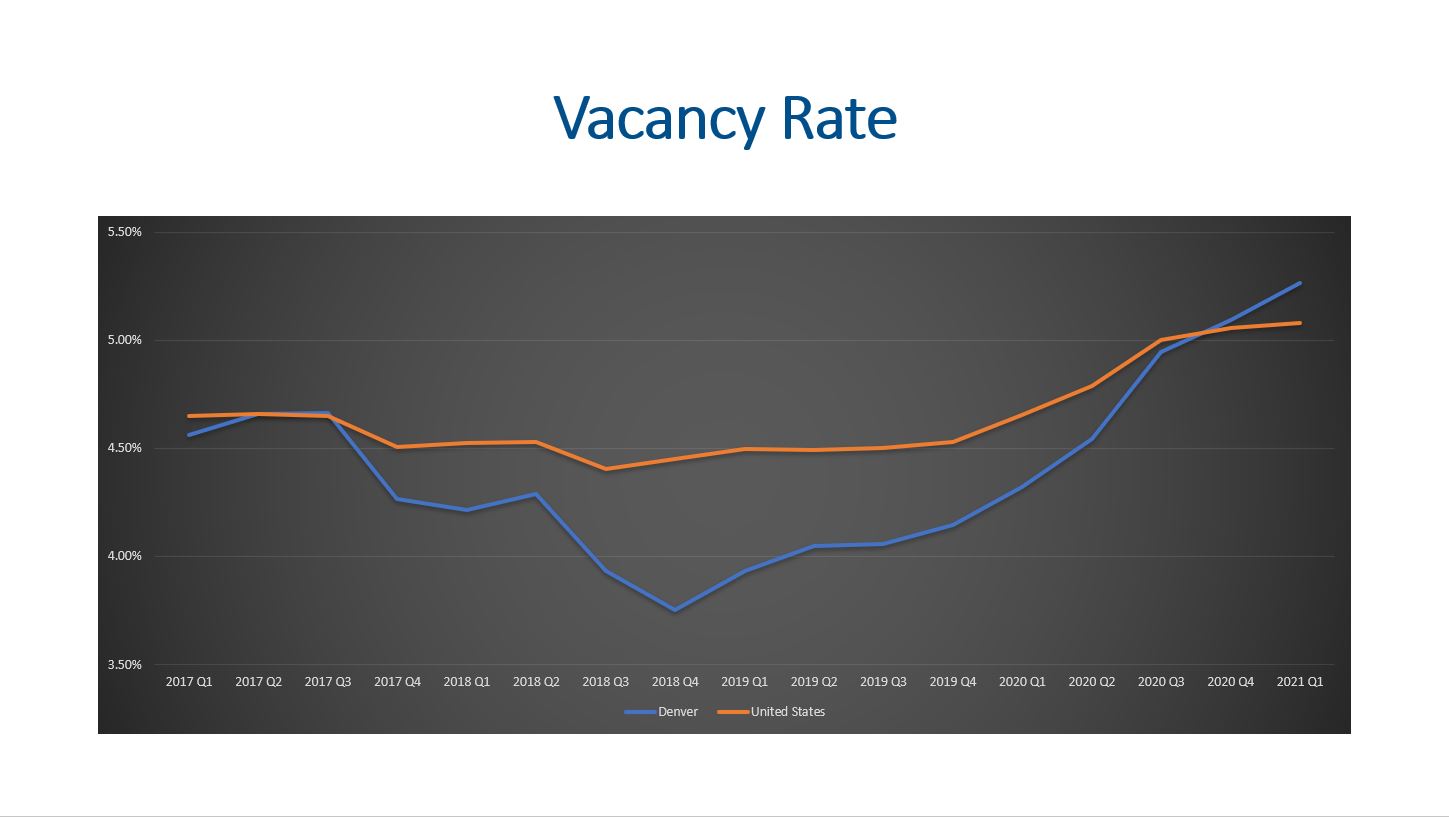 Vacancy rates have been increasing over the last few years, but I believe they are still fairly low. In Q1 2021 the vacancy rate for retail was 5.27%. This is 94 basis points higher than Q1 2021 compared to Q1 2020 but is still fairly low compared to office, industrial, and multi-family.
As I drive around, I see a bunch of space that hasn't been filled over the last year, and I am seeing more new vacancies.
Leasing
The average gross lease for retail is at $23.28 per SF per year. This is up just a little from the $23.21 in Q1 2020.
The months on market has been climbing since Q1 2019 when we had a low of 9 months. Now the Denver Metro market is taking 12.6 months on average to lease retail space. This increased from 10.3 months in Q3 2020.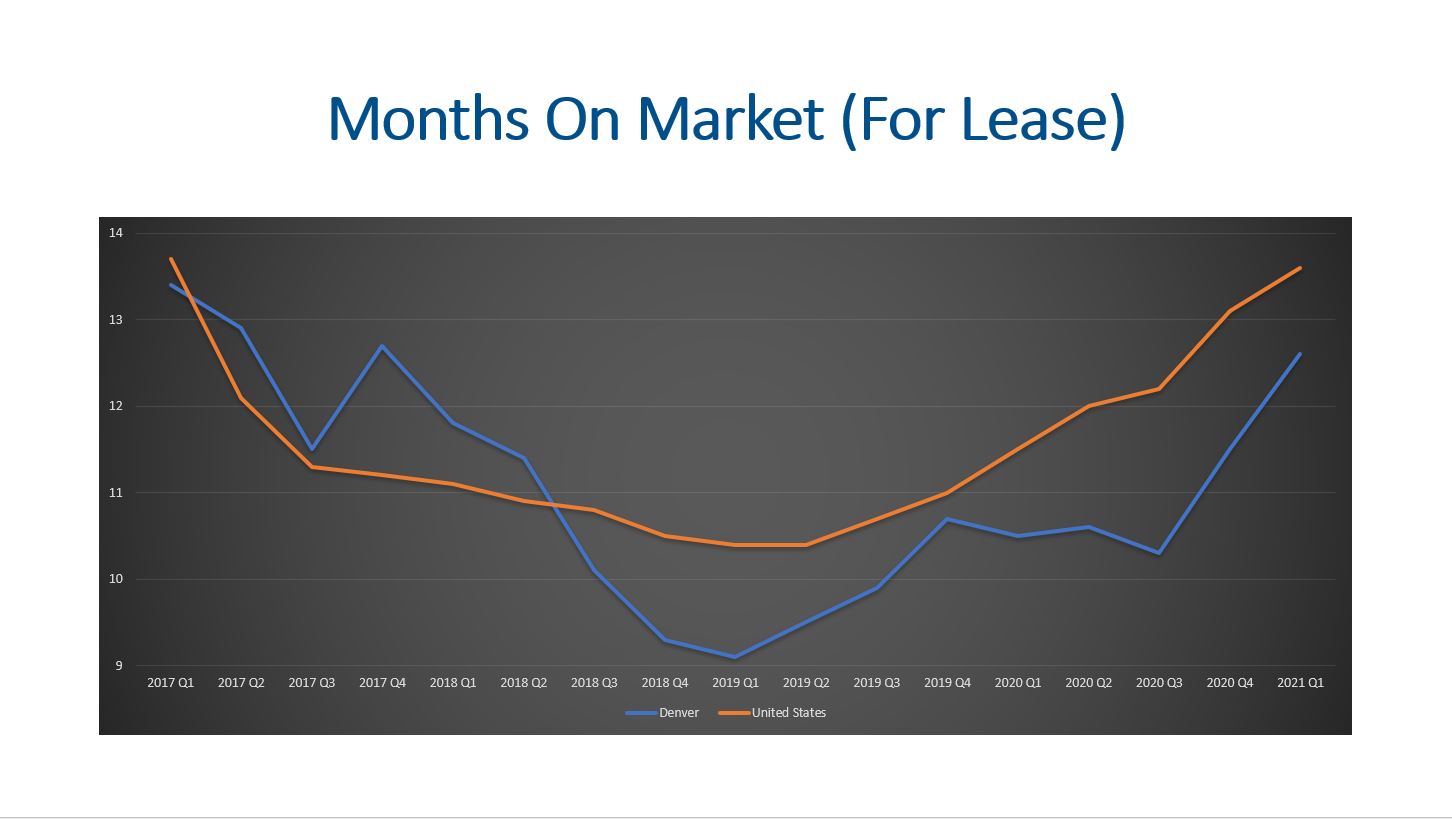 The negative net absorption was 224,931 sf for Q1 2021, and I am surprised it hasn't been higher. The market has lost just shy of 900k sf over the last 4 quarters, but this a drop in the buck compared to the 1M sf that office last in just the first quarter of this year.
Final Thoughts
Supply and demand for retail properties is fairly balanced with 6.1 months of inventory. Developers have really slowed down on new construction starts and there is a very modest amount of new development. Even though vacancy rates have increased they are still fairly low compared to other product types and rents are basically flat. It will be interesting to continue monitoring what happens in the retail product type of commercial real estate.
Here is a link to the full analysis: