July 2022 Residential Real Estate Market Trends August 24, 2022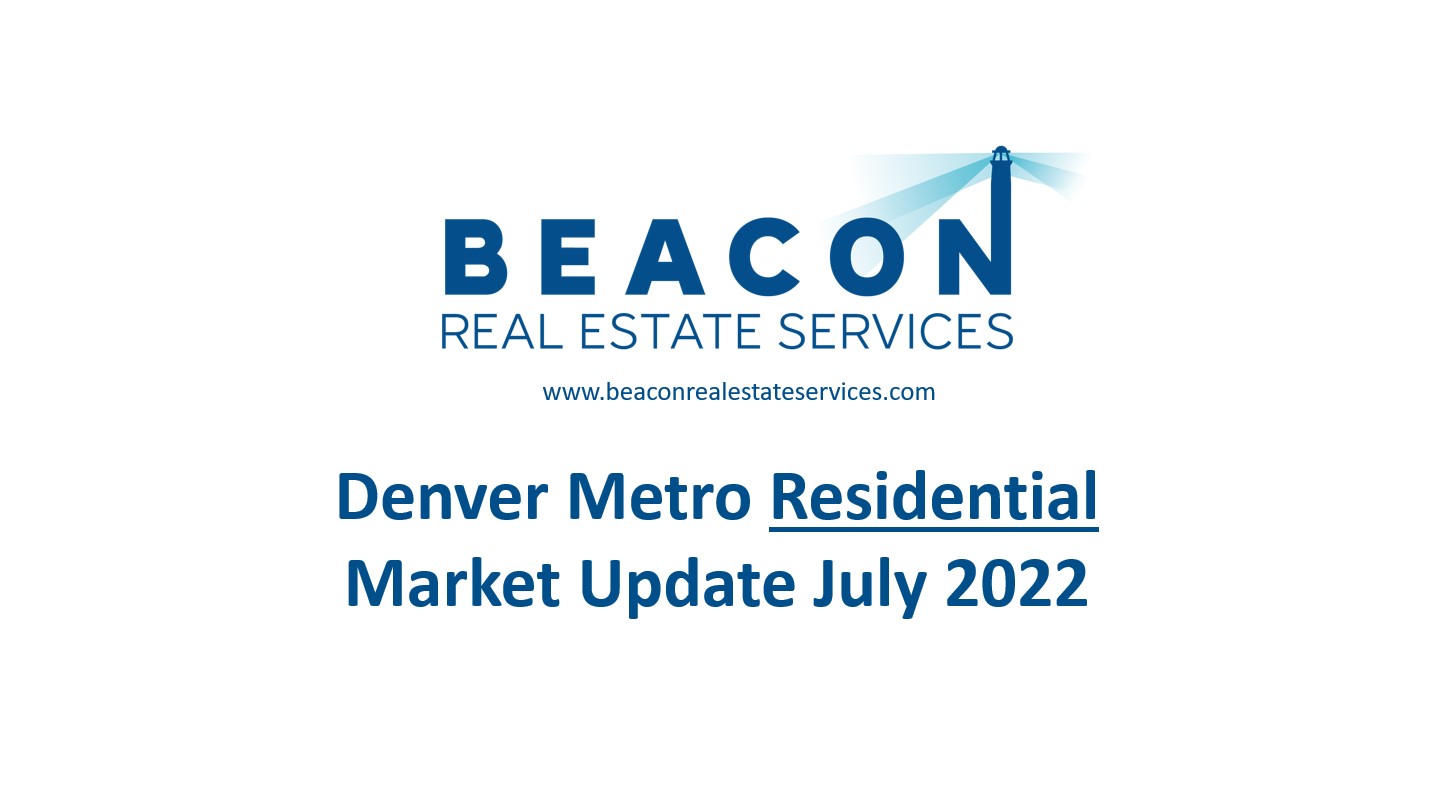 The residential real estate market is changing! The 30-year mortgage rate increased to 6% by the end of June and it came down to 5.375% by the end of July. Higher interest rates are having an impact on the market as some buyers have put their search on hold.
Let's take a look at the latest market trends for the residential real estate market in Denver through: Supply, Demand, Sales Prices, and Months of Inventory for July 2022.
Supply
We saw 6,438 new listings during July 2022. This was 1,368 fewer new listings than the 7,806 new listings that hit the market in June 2022.

When we look at the total amount of active listings at the end of the month, we had 8,318 active listings. The inventory is up 51.4% compared to the record low of 5,495 listings in July 2021. The higher level of inventory is huge relief for buyers.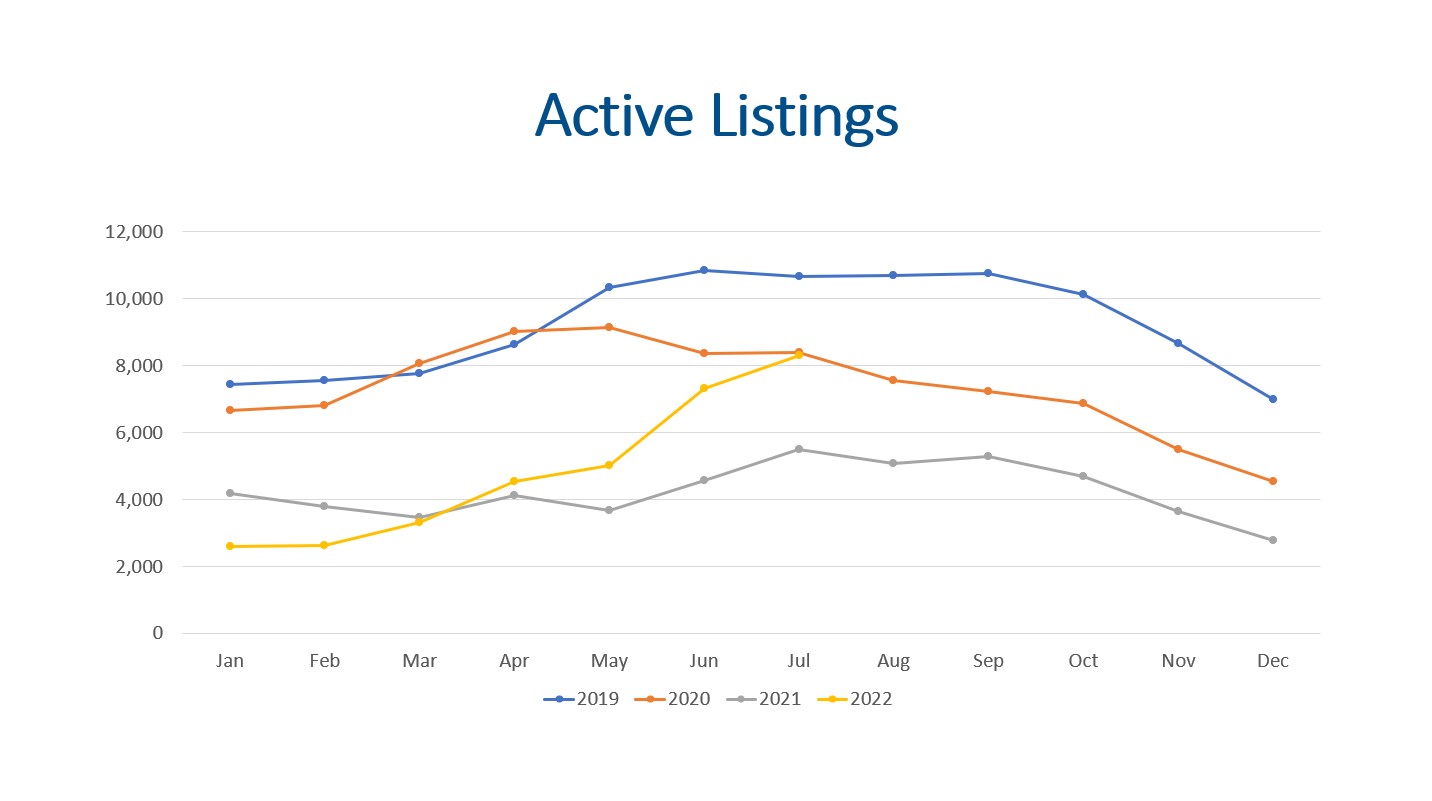 Year to date detached homes new construction was up 31.9% for January to March when compared to 2021; however, the significant decline in new construction from in starts for April to July has resulted in a decline of (7.5%) for the year.
All in all, supply for residential homes for sale is getting back to numbers seen in 2020.
Demand
The average total showings for July during 2019, 2020, 2021 was 98,370. July 2022 had 55,326 showings (roughly 56% of what we should have)! Higher prices, higher rents, higher interest rates, high inflation, and overall market uncertainty appears to be keeping buyers from looking.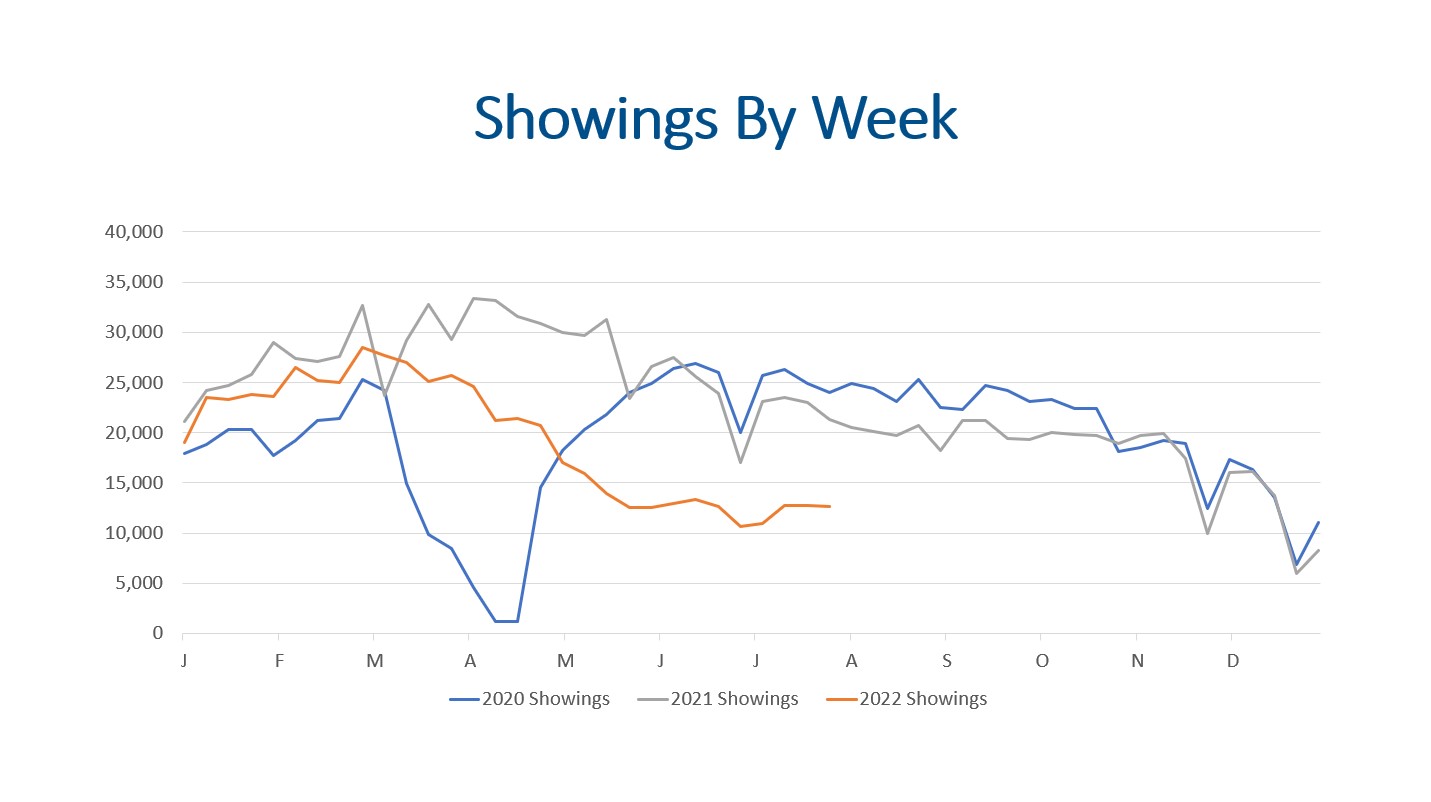 We saw 4,118 properties go under contract in July 2022. This is a (25.6%) decrease compared to July 2021 and a (7.9%) decrease compared to June 2022.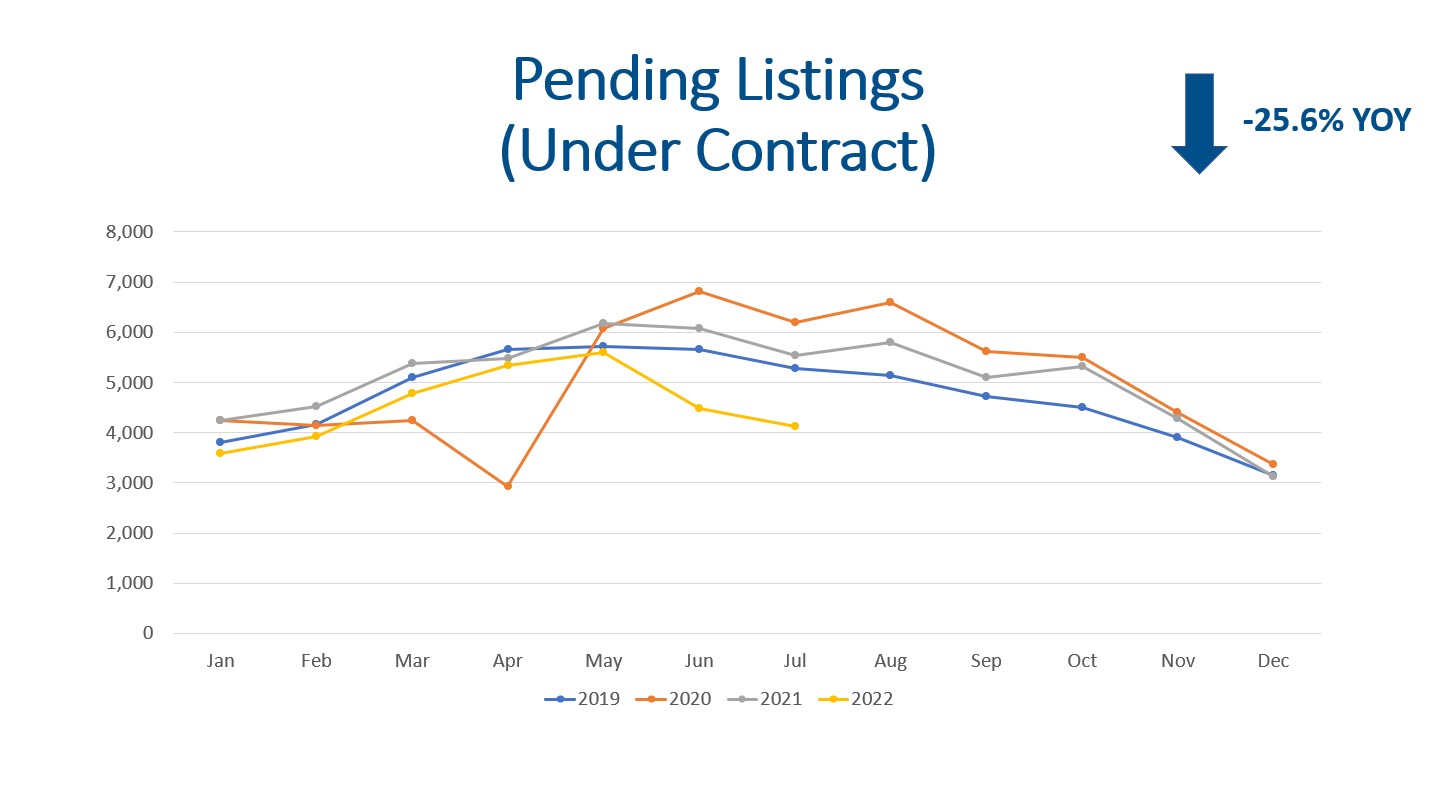 There were 4,317 closings in July 2022 compared to 5,267 in June of 2022. This is an (28.0%) decrease month over month. Compared to the 5,992 closings in July 2021, this is a (28%) decrease in closing volume. Year to date, there have been 29,724 closings compared to 35,716 closings during the same period in 2021. This represents an overall decline in closings of (11.6%).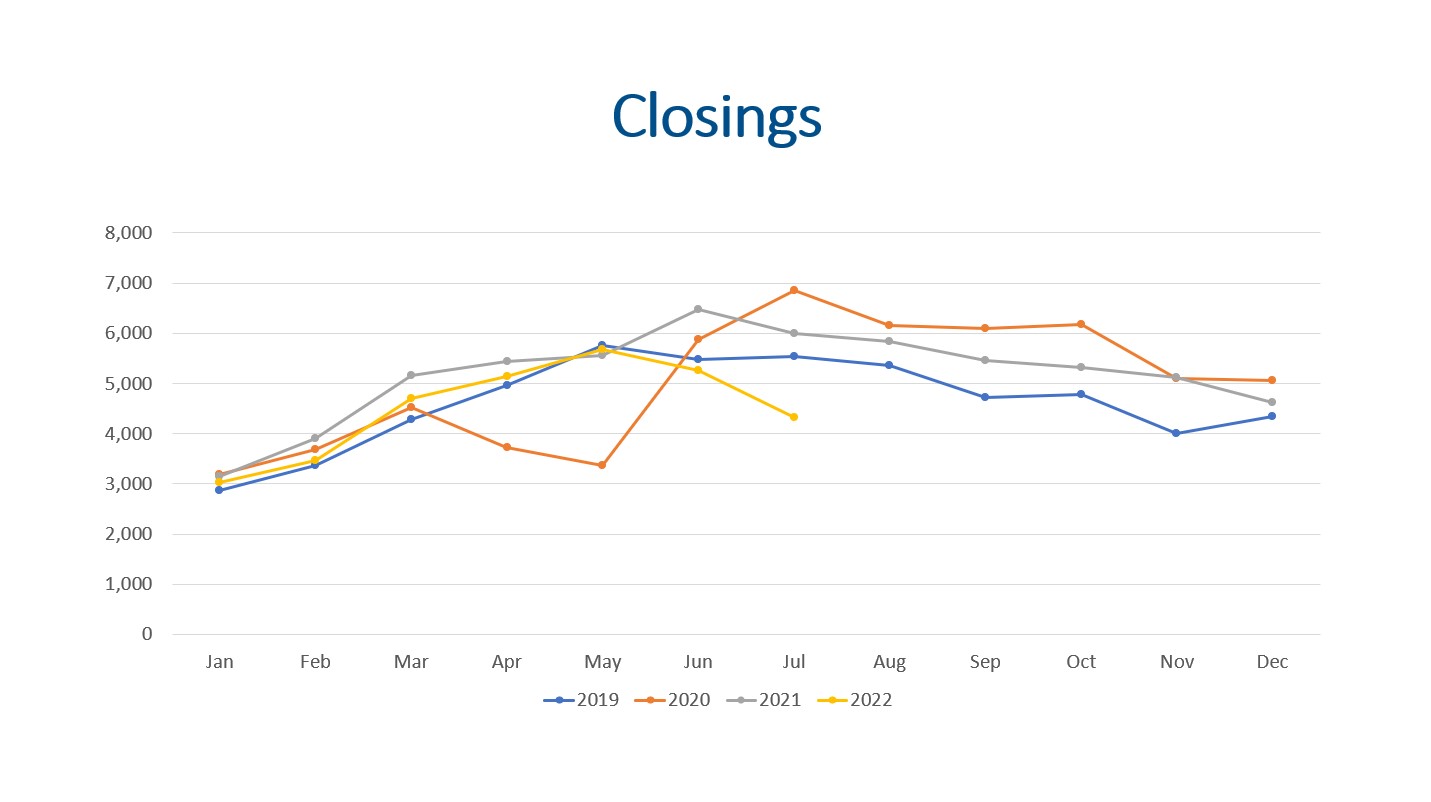 The median days on market for July 2022 was 6 days, so half of the homes sold within 6 days even with the decline in closings. The average days on market is 14 days. We expect the time on market to increase significantly since this metric only counts the properties that have closed and a lot of listings are on the market much longer now.
All in all, demand is weakening with lower showings, contracts, and closings.
Sales Price
The median sales price for the residential market for July was $590,000. This is down slightly from the median sales price of $605,000 in June. This includes detached homes, condos, and town homes.
If we look just at detached homes, the median sales price was $650,000. This represents a 9.8% YOY increase.
The rate of appreciation for the first quarter of 2022 ranged between 18-21%, which is very high. The rate of year over year appreciation for July 2022 was 10.3%; therefore, the rate of appreciation is slowing. We believe appreciation will return to the long-term average of 6% by the end of the year.
Months of Inventory
The amount of inventory is still one of the best indicators to watch for market trends. A seller's market has 0-3 months of inventory. A balanced market has 4-6 months of inventory, and 7+ months of inventory is a buyer's market. In a seller's market prices go up. In a buyer's market prices go down.
With 8,318 listings on the market and 4,317 closings, we have 8.26 weeks of inventory. This is up from 5.95 weeks in June and 3.8 weeks in May 2022.
Final Thoughts
In conclusion, supply, demand, sales prices, and months of inventory are all important key performance indicators worth monitoring closely. Supply is no longer a problem for Denver Residential Real Estate. Demand has weakened significantly. Higher prices, higher rents, higher interest rates, high inflation, and uncertainty in the economy is slowing showings, new contracts, and now closings. The 30-year mortgage interest rate at the end of June was 6.0% and July ended at 5.375%. Lastly, with 8.26 weeks of inventory, the home appreciation is continuing to slow. We expect appreciation to return to the historical average of 6% by the end of the year.
Here is a link to the full presentation: